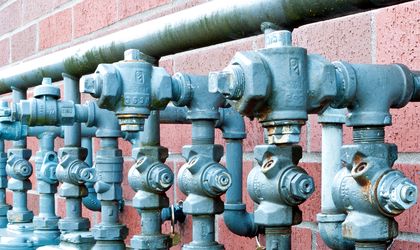 Romania is a key partner of the Nabucco West gas pipeline, the project backed by the European Commission that promises to supply Caspian gas to a potential market of over 500 million customers in Europe, said top officials from the project last week, during a political committee meeting held in Bucharest.
Ovidiu Posirca
Nabucco West has been touted as the project that could reduce Russian company Gazprom's grip on the gas supply in Europe and make resources available from more countries at competitive prices. Representatives of Nabucco Gas Pipeline International, the project developer, said they have secured political support for the pipeline, which is of strategic interest for Europe.
Romanian PM Victor Ponta stated that the completion of Nabucco would be "a major strategic interest" for Romania and the whole region.
"For Romania it represents an extraordinary opportunity to complete its domestic gas production and become energy independent," added the PM. 
Earlier this month the developer launched the open season for capacity booking, and potential shippers will be able to submit binding bids from the third quarter. By this time, the engineering studies should be completed and the consortium will work out the total investment cost of the pipeline, which will run for 1,329 kilometers from the Turkish-Bulgarian border to Baumgarten in Austria, passing through Bulgaria, Romania and Hungary.
The Nabucco shareholders signed last week a Subscription and Shareholders Agreement, a document that lays the foundation for future development between the developers and the consortium operating the Shah Deniz gas field.
Vying for the Caspian gas
The Nabucco pipeline and its rival Trans Adriatic Pipeline (TAP) are competing for the additional gas deposits unlocked during the second development stage of the Shah Deniz field in the Caspian Sea. The Shah Deniz consortium, which comprises SOCAR, BP and Total, are expected to choose a final export route next month.
"We have done our homework and it's now up to Shah Deniz to make a decision," said Hans-Peter Floren, chairman of the Nabucco Steering Committee.
The Nabucco West project currently has five shareholders, mainly state-owned companies. It includes Bulgaria's BEH, Turkey's Botas, Romania's Transgaz, Hungary's MOL and Austria's OMV. The Austrian oil firm has recently bought an additional 17 percent stake in the project from German utility company RWE.
Transgaz, the state-controlled gas transport network operator, owns 17.4 percent of the shares in Nabucco Gas Pipeline International and has spent around EUR 24 million over five years to finance the development budget.
According to Reinhard Mitschek, CEO of Nabucco Gas Pipeline International, the start of pipeline construction is slated for 2015 and the first gas will start flowing towards Europe in 2019, if the Shah Deniz consortium chooses this route. Nabucco shareholders have also thought of a plan B for supply, in case the Azeri contract is snapped up by TAP.

"For alternative gas supply sources to Azerbaijan, we can mention sources from Turkmenistan and Iraq and sources in the Black Sea," said Mitschek.
Major foreign oil companies are currently exploring blocks in the Black Sea to unlock new gas and oil deposits. A venture comprising ExxonMobil and OMV Petrom assessed a first block offshore that may contain between 40 and 80 billion cubic meters of gas, enough to cover Romania's consumption for close to a decade.
Source:Transgaz; Editing: Mihai Constantineanu
TAP envisages a transport route of 800 kilometers that reaches southern Italy via Greece and Albania and does not use any public money. Its shareholders are Swiss AXPO and Norway's Statoil, each with a 42.5 percent stake, and Germany's E.ON Ruhrgas with 15 percent.
In terms of capacity, Nabucco will be able to transport up to 31 billion cubic meters a year, against TAP's 20 billion cubic meters. In addition, the company developing Nabucco says its project is more business-wise as it taps into the growing markets of South Eastern and Central Europe.
"Nabucco West is more advantageous for Azerbaijan because it crosses countries that lack an NLG supply," said Mitschek.
He added that flexibility is one of the key features of Nabucco, thanks to the extensive networks of gas deposits in transit countries and the option to transport the gas in both ways.
He commented that Nabucco is the shortest route for Azeri gas and can reach between 15 and 18 countries directly. Member companies agreed in Bucharest to further enhance the project by developing new gas interconnections in the region.
Both Nabucco and TAP have been designed under the aegis of the Southern Corridor, a strategic initiative of the European Commission that aims to secure supplies from the Caspian and Middle East regions.
Although securing the gas supply is a critical stage of the project, additional infrastructure is required to link the two regions, and this is where the TANAP (Trans-Anatolian Pipeline) comes into play. Turkey and Azerbaijan have pledged more than EUR 5 billion for the gas pipeline, which should be completed by 2018. This project starts in the Shah Deniz field and crosses Turkey, reaching the border with Bulgaria.
"Nabucco signed a memorandum of understanding with TANAP in March and we are already negotiating with TANAP for the so-called interconnection point agreement for technical elements and parameters and the Turkish-Bulgarian border," said Mitschek. TANAP representatives have signed a similar document with TAP shareholders.
The Russians strike back
Russia's Gazprom has developed its own ventures in response to the Nabucco and TAP projects, whose sole aim is to diversify the gas supply by tapping Caspian gas. It has teamed up with France's EDF, Germany's Wintershall and Italy's ENI to build South Stream.
The project is designed to ship Russian gas to Western Europe through a 2,000 km pipeline that goes through the Black Sea and crosses Bulgaria, Serbia, Hungary and Slovenia to northern-eastern Italy.
"The decision to invest has been taken. The shareholders have instructed us to work towards the first pipeline being in place by the end of 2015, and that is the schedule we are working to," Marcel Kramer, CEO of South Stream Transport, told Reuters newswire earlier this month.
The new gas link between Russia and the EU bloc is running at a total cost of EUR 30 billion.