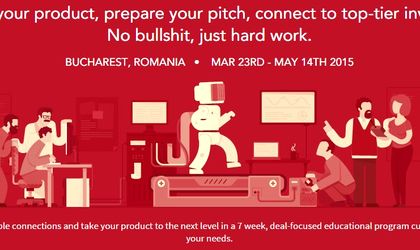 The MVP Angels network managing a micro-fund targeting tech startups in Romania at early stage announced the opening of a new investment stage. This step is for MVP Academy graduates, who will receive up to EUR 50,000 for a minority stake in their company.
The acceleration program will take place at TechHub Bucharest between April 11 and May 31 and will bring together 12 startups. Applications will soon be open on the MVP Academy website. Alongside the financial infusion, companies will have continuous support for a period of 6 to 12 months, with MVP Angels coordinators joining the board.
"Moreover, they will have access to important connections in the industry and a network of over 400 investors, acceleration programs, and venture capital funds and mentors with relevant experience. Thus, teams can connect with different tech ecosystems globally and have the opportunity to scale faster and / or to obtain new financing rounds," a statement by the fund shows.
There has been a first investment, into InnerTrends, a startup aiming to help companies optimize the acquisition of new users by learning more about their behavior.
MVP Angels is coordinated by Bogdan Iordache, Daniel Dragomir and George Dita.
Bogdan Iordache, Board Manager & Co-Founder of How to Web and TechHub Bucharest, has been in touch with all MVP Academy teams as main coach, helping with product definition and business development.
Daniel Dragomir is the CEO of How to Web and TechHub Bucharest. Within the MVP Academy he was in charge of gathering support and establishing deals for all programs.
George Dita is How to Web's Startup Programs Manager, with all the Academy teams on a full-time basis for coaching, customer development and pitch preparation.
The team will be joined by professionals and investors such as Ana Maria Andronic (attorney at law, DLA Piper), Carmen Sebe (ex-CEO, COO Avangate, now angel investor), Mihai Sfințescu (investitor private equity / venture capital), Cosmin Ochisor (Business Development Manager, hub:raum) and Adrian Gheara (angel investor).
Natalia Martian