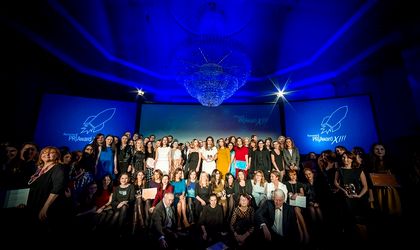 MSLGROUP The Practice earned Agency of the Year at the 13th edition of PR Award. Moreover, the agency received the special award "Best Use of Measurement and Evaluation" hors-concours. Five of the most appreciated campaigns in the competition were selected for this award, three of which were MSLGROUP The Practice campaigns. It was a great night for the agency as it won no less than 17 awards (3 Gold, 11 Silver and 3 Diplomas of Excellence), for 11 distinct campaigns, setting a new record in terms of awards received by a single agency in the Romanian PR Award competition.
"Our agency was born nice years ago out of an ambitious dream: that of establishing new standards in the public relations field. With a lot of passion and work this dream become reality. Tonight we win for the third time the title of Agency of the Year at PR Award, a premiere in the competition's history," said Oana Bulexa and Monica Jitariuc, managing directors of MSLGROUP The Practice.
The title of the "Professional of the Year" was given to Crenguta Rosu, managing director of DC Communication. "Crenguta Rosu is one of the Romanian PR field's <>, at which construction she took part in over 20 years with verticality, immense creativity and passion. She founded and developed alongside her partner Tudor Frolu one of the most solid independent Romanian PR companies. She is an excellent creator of communicational professionals and a renowned team leader, succeeding in the "solidification" of a center of PR professionals that, over 16 years, are working together for the success of the clients and the company. She promotes, with power of conviction, persistence and modesty the open dialogue, as an essential principle for the success of the communicational process, said Corneliu Cojocaru, member in the international jury of Romanian PR Award.
This year's jury awarded 19 Golds, 46 Silvers and 15th excellence diplomas. The "PR In-house Team of the Year" Award was achieved by the communication team of  Samsung Electronics Romania.
The special distinction "PR Innovator of the Year" given for the third time in a row by Vodafone Romania, went to OMV Petrom and its partners Graffiti and GMP for the project "Romania Meseriasa".
"Best Use of PR Measurement & Evaluation", an award offered by Raiffeisen Bank, was handed to AdFaber and MSLGROUP The Practice for the project "Hour of Code- Give code a chance".
This year's jury has esteemed international top members from countries such as USA, UK, Germany. Italy, Austria, Norway, Sweden, Holland, France, Hungary and Romania.
This year's full list of winners can be found here.
Romanita Oprea