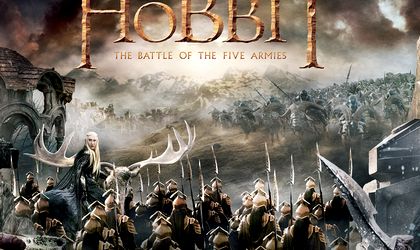 Fantasy-aficionados around the globe are sure to lament as madness reigns in the hall of the Mountain King. The Hobbit trilogy is a perfect example of giving someone mixed feelings about something they truly love.
At the start of the closing Peter Jackson epic delivered straight from Middle-Earth, Smaug is wrapped up in a vengeful attack on the city of Laketown. Chaos and destruction ensue, but luckily not everyone in Laketown is as incompetent as the Master (Stephen Fry).
Back in the mountain, Thorin starts becoming more and more dragon-like, not in the sense that he grows wings and breathes fire, but in succumbing to greed and madness and would do anything to protect his newly-acquired treasure, even if it means casting away old friends and family alike. And with this we can confidently say that The Battle of the Five Armies is, unequivocally, Richard Armitage's movie. The Brit inhabits the part perfectly, playing Thorin in an almost schizoid rage, alternating between moments of true madness and glimpses of the man (er, dwarf) that once lead his people out of death and into safety.
And that is the rub in a sense. While Armitage's performance qualifies as a tour-de-force for the baritone-voiced thespian, you can't help but feel that the movie loses focus from its main purpose.
After all, it's a movie called The Hobbit, and Freeman's brilliant portrayal is somewhat shadowed by the focus that is set on Thorin. Also worth mentioning is Lee Pace's aggressive turn as Thranduil, king of the Mirkwood elves. Pace's performance is one of the better ones in the movie and this time around you finally understand the Elvenking's motivations and even get a glimpse as to why he's basically shut himself inside his kingdom and cares little about the outside world.
The conclusion of the trilogy stands apart as the best the Lord of the Rings spin-off series has to offer. The battle in the title lasts almost an hour and it's dynamic and well-paced, but unfortunately rather suffocated by CGI. For instance, Billy Connolly's Dain, more war-machine than dwarf, is completely computer-generated and it's a bit of an eye-sore. In the same line of thought… Ninja-elves. Jackson loves his ninja-elves.
In a strange way, this movie has nostalgia written all over it, from cameos from Cate Blanchett to Christopher Lee, to having Billy Boyd (Pippin from the Lord of the Rings trilogy) sing the credits song.
So, yes, go see Middle Earth on the big screens. Possibly, one last time.
The Hobbit – Battle of the Five Armies premieres in Romania on December 19, in Digital Cinema, 3D and Imax.
Director: Peter Jackson
Starring: Richard Armitage, Martin Freeman, Cate Blanchett, Lee Pace