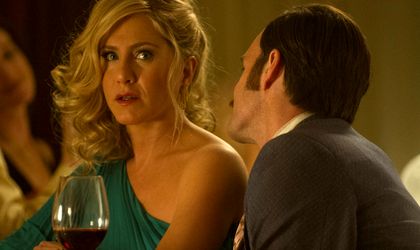 Hapless ex-cons. A doomed criminal scheme. A barnstorming 1970s soundtrack. Jaunty banter. It could be the latest super-cool Quentin Tarantino flick. But instead it's an amiable repackaging of familiar crime-caper elements lent some élan by a quality cast.
Mickey Dawson (Jennifer Aniston) is the long-suffering trophy wife of Frank (Tim Robbins), a dodgy Detroit real estate developer with a finger in every pie in the city. His murky dealings have brought him to the attention of felonious losers Ordell Robbie (Mos Def) and Louis Gara (John Hawkes), who see him as ripe for blackmail. The pair hatch a get-rich-quick scheme involving poor Mickey, for which they enlist a mentally unbalanced Nazi memorabilia collector (Mark Boone Jr.) to provide weaponry and back-up.
Guess what! It doesn't go according to plan. Into the mix come stumbling the Dawsons' extramarital interests, Marshall (Will Forte), a country club drinking buddy of Frank's with designs on the lonely Mickey, and Melanie (Isla Fisher), the younger model for whom Frank was about to trade in his wife. But the crooks prove inept and start arguing, and the ruse soon spirals out of control.
Based on an Elmore Leonard novel, Life of Crime is nicely plotted with some deft twists, which help make up for the feeling that you've seen it all before. The movie is satisfyingly cynical about human nature: spineless Marshall and hard-faced Melanie both prove more interested in safeguarding their own positions than in the welfare of an innocent women who's fallen into the hands of dangerous criminals, and Frank's concern for the mother of his son is pathetically half-hearted. Happily, proceedings are not overly violent, given the subject matter (though there are a few wince-inducing moments).
All the stars make the most of their roles, in particular Aniston, who fleshes out her trophy wife into a rounded character that is the film's heart. Robbins is suitably loathsome as the philandering crook, who gets played like a violin by Fisher's self-serving mistress.
While its debt to Tarantino and other black comedies is manifest – some of the characters appeared in 1997's Jackie Brown, also based on a Leonard book – Life of Crime is nowhere near as memorable as the movies it invokes. There are many iconic entries in the darkly funny crime capers and wife-kidnap genre – from Pulp Fiction and The Big Lebowski to Ruthless People (to which the plot here bears close similarities) and more recently the Oscar-winning American Hustle – and Daniel Schechter's film does not approach that caliber.
But its vivid characters and impressive cast do some justice to the story, and Life of Crime is a respectable tribute to the recently deceased Leonard, credited as executive producer, and an advert for the rest of his work.
Debbie Stowe
Director: Daniel Schechter
Starring: Jennifer Aniston, Mos Def, Isla, Fisher, Will Forte, Mark Boone Jr, Tim Robbins, John Hawkes
On at: Cinema City Cotroceni, Cinema City Sun Plaza, Grand Cinema Digiplex, Hollywood Multiplex, Movieplex, The Light Cinema