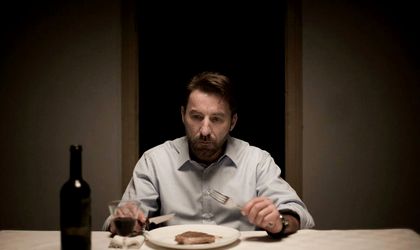 As every connoisseur knows, the best serving suggestion for human meat is with some fava beans and a nice Chianti. The tip comes, of course, courtesy of Hannibal Lecter, the movie cannibal against whom all future flesh eaters will be measured.
Debbie Stowe
Carlos (Antonio de la Torre), the people-devouring antagonist of Manuel Martín Cuenca's Spanish-Romanian co-production, is very much in the Dr Lecter mould, cracking open a good bottle of red to wash down his unorthodox viands. He's your professional, softly spoken type of serial killer. Like all self-respecting middle-class murderers, he says good morning to his neighbors, keeps noise levels to a minimum and generally avoids causing any inconvenience – unless he's killing and eating you, of course, which could be rather bothersome.
Despite focusing his film on the last taboo, Cuenca does not sensationalize proceedings. The really gory parts take place off camera, and the style is slow and ponderous, with long, static takes and majestic mountain shots that are at odds with the abhorrent events. It's the psychology, more than the mechanics, of Carlos's cannibalism that drives the movie.
Not that the filmmaker gives too much away on that score. Without a Dr Lecter style elucidation ("He covets. That's his nature. And how do we begin to covet, Clarice?…") the roots of Carlos's serial killing tendencies are not made explicit, aside from being vaguely blamed on women trouble (might have known it would be our fault).
After a startling opening sequence that sets out Carlos's modus operandi, the story shifts to the arrival of new neighbor Alexandra (Olimpia Melinte), a flighty young immigrant with a dodgy past, followed by her more sensible sister Nina (also Melinte – the Romanian does such a fine job of distinguishing her roles that I did not initially realize it was the same actress).
Herein lies the story's main tension: are the women for the chop? Cuenca's somber cinematography and de la Torre's understated portrayal of a madman add to the fraught atmosphere in scenes where one or other of the hapless women finds themselves alone with the killer. The Spanish actor's total stillness is as ominous as Anthony Hopkins's teeth sucking.
Carlos is a multi-tasker, and while building relationships with the sisters he manages to keep up his campaign of terror against random women, in some of the movie's most chillingly effective scenes. He also fits in a successful career as a tailor for Granada's high society. His latest prestigious commission is to make a copy of a sacred fabric for the Catholic Church, and the marked use of religious imagery hints at the psychopath's complex mental processes: despite his depraved crimes and composed exterior he is clearly wrestling with inner demons.
Cannibal is a curious work that eschews the gimmicks of its genre and takes a mature, assured approach to depicting a modern monster of urban legend – giving audiences something to really get their teeth into.
Director: Manuel Martín Cuenca
Starring: Antonio de la Torre, Olimpia Melinte
On at: Grand Cinema & More, Hollywood Multiplex, Corso, Elvira Popescu, Europa, NCRR, Studio