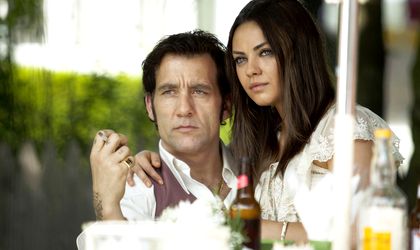 "So there's a n*****, a k*** and a w** and they get surrounded by Indians…" So begins Blood Ties, managing an impressive four racial slurs in as many seconds – surely a record for movie opening lines. A shootout is soon underway. Armed robbery, drugs and prostitution ensue. Guillaume Canet's crime thriller is not for the fainthearted.
With epic ambitions and a big debt to Martin Scorsese, Canet follows the relationship between two brothers – a cop and a robber – and their loved ones in 1970s Brooklyn. Chris (Clive Owen) is the felon, fresh out of prison. He moves in with Frank (Billy Crudup) – awkward living arrangements given that the latter is an NYPD detective. Frank sets Chris up with a legitimate job at a friend's garage and helps him rebuild bridges with family, including their cancer-stricken father (James Caan) and Chris's phenomenally furious former wife Monica (Marion Cotillard).
The ex-con's efforts to go straight are scuppered by his criminal past – luckily for the viewer, as 144 minutes of Clive Owen tinkering with cars might have begun to drag – and Chris soon falls back in with his old associates. Yep, just when he thought he was out… So fraternal loyalty is set against Frank's desire to Do the Right Thing and Chris's intention to make a lot of money by robbing and shooting people.
With the period Brooklyn setting, Italian-American characters, family focus, expansive scope and irresistible upbeat soundtrack, the most obvious reference is Goodfellas (1990), while the juxtaposition of cops and crims recalls 1995's Heat. However, the violence committed by Ray Liotta's Henry Hill and Robert De Niro's Neil McCauley is minimized in Scorsese's and Michael Mann's classics, enabling the viewer to sympathize with the two gangsters despite their criminality. By contrast, Chris is shown to be ruthless and brutal in his pursuit of the loot.
This jars with other aspects of the movie, such as his devotion to new girlfriend Natalie (Mila Kunis). While Godfather-era films upheld the twisted standard that it's okay to knock your woman about once you've "given her your name", Blood Ties is fortunately more progressive, with both Chris and Frank trying to do right by their partners.
The main tonal discord, however, comes from the barnstorming soundtrack, chock full of golden soul, rock and pop hits. It's hard to dispassionately condemn the carnage playing out on screen while singing and foot-tapping along to Sam Cooke, The Crystals, Little Richard et al.
The cast are top-notch and all the performances are solid (notwithstanding Owen's blue-collar Brooklyn and Cotillard's Italian-American accents being infiltrated by their native English and French tones). Cotillard's spurned moll is much meatier than actresses' typical helpmate roles in mob dramas, and Kunis and Zoe Saldana, as Frank's married love interest, also leave an impression.
Blood Ties is not in the league of the films it emulates – not least because of an ending that relies too much on implausibly perfect timing. But it's a rewarding reworking of familiar material, with a soundtrack as powerful as its bad guy.
Director: Guillaume Canet
Starring: Clive Owen, Billy Crudup, Mila Kunis, Marion Cotillard
On at: Grand Cinema & More, Hollywood Multiplex, Movieplex Cinema, Cinema City Cotroceni, Cinemateca Union, Elvira Popescu, NCRR