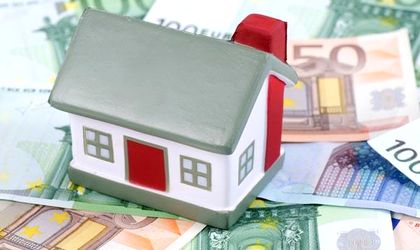 The annual percentage rates for the cheapest offers of real estate loans in lei have settled below 6%, which makes them just as profitable if not more profitable than loans in euro. This along with the fact that a new European directive will make it easier for clients to convert the currency of their loan from foreign currency to lei creates the context for a surge in lei-based mortgage loans in the near future.
"The most important news of this year, maybe even of the last decade, which concerns over 2 million Romanians and their families, has gone completely unnoticed: the cost of mortgage in lei has reached the same level as those in euro", Cristian Hostiuc, editor-in-chief of Ziarul Financiar, writes in his feature editorial on the topic.
Hostiuc argues that for over a decade, mortgages in euro were far more profitable than those granted in lei. The cost of Romania's national currency on the interchange has fallen and as a result, banks had to lower interest rates on credits granted in lei. At the current level of 2% on Robor at 3 months (the indicator used as reference for the cost of retail credits), a loan granted din lei has reached an interest rate equal to that of a credit in euro.
For example, the month rate for a credit of RON 180.000 (approximately EUR 40.000) contracted over 3 years starts at RON 950 (EUR 210). The client will have to reimburse 363.000 lei in total, and the interest rate will be 5.7%/per year. A loan in euro of the same value will carry a monthly fee of 220 euro and an interest rate of 5.9%/per year.
At the start of 2007, mortgages in foreign currency represented 85.5% of total housing loans contracted by the general population, according to gandul.info. Seven years later, in January 2013, the total value of mortgage credits in a foreign currency has risen to 94.9% of total stock. Towards the end of the year, the percentage dropped to 92.2%, as loans in lei resurfaced.
Clients have avoided lei-based credits for decades, intimidated by the high interest rates. For example, the rate for a lei-based credit was 30% higher than the rate for a mortgage in euro at the start of 2012. Banks chose to aggressively promote foreign currency loans, since they could always rely on cheap resources from mother banks.
These resources are gone, and in turn bankers need to rely more on loans in lei. The Central Bank of Romania is helping with its policies of monetary relaxation. The key-interest rate in lei has been reduced by 1.5% in the last 6 months, to a minimum of 3.75% per year.
"This is a huge opportunity, but it will only last for 1 to years, after which the interest rates will start rising again", Hostiuc concludes.
BCR Banca pentru Locuinte says 19 percent of young clients seek 'immediate' loan
Another major shift about to happen in the mortgage loan industry is the implementation of a new European directive that allows credit-holders to switch from foreign currency to lei, at the exchange rate of the day they made their solicitation, without having to refinance their loans. The bank creditor may deny the request only if the guarantees supplied by the client are insufficient, which may happen given the state of the real estate market.
At present, if a client wishes to change the currency of a mortgage loan, they would need to refinance their credit. A refinancing is similar to taking out a new loan, but many credit-holders have seen the value of their real-estate drop considerably, which makes refinancing difficult. The conversion to a lei-based credit would solve a lot of problems.
The change will take place in march and Romania has a curfew of two years to change it legislation. The practical details of how the conversion will unfold are yet to be determined, most likely to be ironed out in spring.