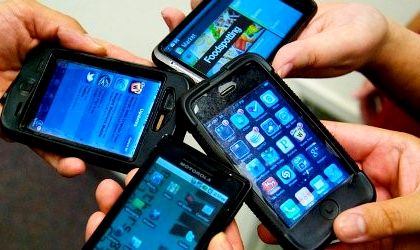 There is one tablet for every three Romanian households and a smartphone for every two in Romania, according to statistics carried out by the Romanian telecom watchdog ANCOM. 
Approximately 36 percent of Romanian households own at least one tablet, 73 percent have at least one smartphone and 55 percent of them at least one laptop.
"50 percent of Romanians have access to mobile internet by phone, based on a telephony postpay offer that also includes internet, 35 percent have internet access on the phone, based on a prepaid card that includes a mobile internet additional option, while 25 percent have internet access via a stick or USB card with subscription," according to the press release.
Approximately 55 percent of mobile internet users with limited traffic said they pay close attention to the way they use the traffic and do not exceed it. Other 24 percent of users very rarely exceed the traffic limit while other 10 percent admit this happens to them often or very often.
In the case of mobile internet services, Romanians pay on average RON 58 for an individual service, while for a package of services that includes mobile internet, they pay RON 109. Most users pay between RON 23 and RON 45 for an individual service while the price of a package of services is RON 90.
Most Romanians are satisfied with their mobile internet provider and only 5 percent of them have changed the operator over the past year. Generally,  they choose to change their service provider because they want to have a better service package, in 24 percent of cases, or they want to profit from existing offers to acquire a new mobile phone, smartphone, tablet or laptop, in 17 percent of cases. The volume of traffic also weighs a great deal in the decision of 17 percent of the interviewed users to change their provider, while in rural areas, the insufficient coverage area counts for 13 percent of users.
Mobile internet users mainly surf the internet, use social networks and e-mail but also voice communication and instant messaging.
78 percent of them use mobile internet daily or nearly daily, while 15 percent use it two or three times a week.
Approximately 76 percent of mobile internet users have also fixed internet in their household, and they use the mobile connection when the fixed one is down.
Otilia Haraga