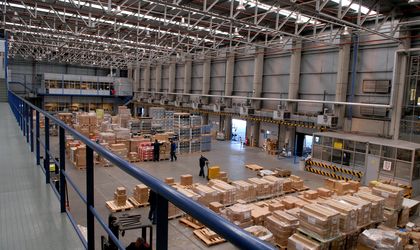 After demand for industrial and logistics space rose by 15 percent in the first half of the year, market representatives are confident that last year's level of leasing activity will be maintained, if not even increased, by yearend.
Simona Bazavan
Demand for industrial and logistics space was up by 15 percent in the first half of the year and the trend is expected to continue through to yearend, according to Cristina Pop, head of the industrial agency at JLL Romania. "By the end of 2015, we expect both the logistics and industrial/production markets to grow, both in terms of take-up and investment volumes. After a record 2014, when the total take-up was approximately 310,000 sqm, we expect 2015 to witness a similar level," she told BR.
Demand for both logistics and industrial space is going up, and what is more important is that it is spread across the country and there are multiple transactions both in Bucharest and in cities such as Ploiesti, Timisora, Oradea and Brasov, Dana Bordei, head of the industrial agency at CBRE Romania, told BR.
Both logistics players and manufacturers are driving the advance, say market representatives. More and more retailers are looking to open logistics hubs outside Bucharest, especially in the western part of the country. Online retailers are also contributing to this.
Demand for industrial space outside the capital is also on a positive trend and the availability of local workers at attractive costs is the main factor manufacturers consider before opening production facilities in Romania.
The industrial sector has had an even more dynamic evolution than logistics, Costin Banica, associate director of the industrial agency at Colliers International Romania, told BR. "What is important when we look at the production spaces leased over the past six months is the vote of trust large manufacturers have given Romania. More and more companies are choosing to expand their business in Romania and we're even seeing new names prospecting the market. They are attracted here by the high quality of local products and services available, a qualified workforce at competitive prices and a stable economic environment," he said.
However, a growing problem is that companies are finding it increasingly hard to find qualified employees, and in order for the market to maintain its growth momentum, it is important on the long-run for the country to invest in the educational system, urge market representatives.
Who's building?
To cater to this growing demand, developers are investing in new projects.
"We expect the stock to increase in the next 12 months, due to a combination of factors, including the increasing new demand, tenants' expansion plans and the very low vacancy rates in quality projects. There are already a number of developers, such as Immofinanz, who saw the opportunity and have already started construction works, with a clear objective of delivery – either by the end of the year or the first quarter of 2016," said Pop.
According to data from Colliers International Romania, until the end of 2016 some 100,000 sqm of new office space will be delivered locally. "We predict that by the end of this year the stock of modern industrial space in secondary cities across the country will be up by about 5 percent compared to level reported at the end 2014," said Banica.
However, the overall growing demand for both logistics and industrial space has not proved enough for developers to change their cautious approach to speculative projects.
"The industrial sector was the hardest hit by the crisis. While a few years back the vacancy rate went as high as 35 percent, now, in Bucharest, it is hard to find a consolidated space of 10,000 sqm. However, after developers built speculative projects in 2007 and 2008 and then went through periods with vacancy rates of around 30 percent, they are less willing to risk and are instead opting for the built-to-suit model," outlined Silviana Badea, head of capital markets at JLL, during BR's 14th Realty event, in June.
One such example is the Brasov Industrial Park developed by ICCO, which over the coming months will expand the project by 15,000 sqm, space that has already been pre-leased by existing tenants, according to Mirela Radulescu, sales & marketing director at ICCO.
But there are exceptions, such as Immofinanz, which will this year start the speculative development of the first phase of a 140,000 sqm logistics park near Bucharest in Mogosoaia.
Other developments scheduled for this year include the extension of VGP Park Timisoara and Olympian Park Timisoara in western Romania by the end of the year, according to CBRE data.
Consolidation is the name of the game
After Czech PointPark Properties (P3) bought the Europolis Logistic Park in Bucharest last year, the local market for industrial and logistics space is expected to see further consolidation by yearend, said Badea at the Realty event.
"Industrial spaces are an attractive field for those who know how to manage this business, because one needs certain skills to do so. I think that over the next period we will see the consolidation of the existing stock in the hands of several large investors such as P3, CTP or Immofinanz. NEPI and Globalworth, the two largest real estate players of the past five years, have also invested in industrial assets. What we will see over the next six month is that the existing stock will be divided between these players," she predicted.
What will follow will be the expansion of existing projects, many of which have land available for this as well as new projects being kick started, pundits say.
Industrial and logistics market
Total stock (Romania): 1.9 mln sqm
Total stock (Bucharest): 1 mln sqm
Bucharest vacancy: 6-7 percent
Vacancy at country level: 12.5 percent
Prime rents: EUR 3.4-EUR 4/sqm/month