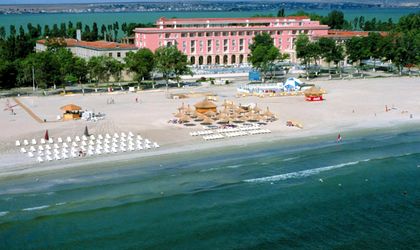 The number of foreign tourists who spend their holiday on the Romanian seaside started to grow, their preference being Mamaia, stated on Monday the chairwoman of the  Litoral – Delta Dunarii Association, Corina Martin.
'We still work with 95 percent Romanian tourists. We are growing on the sector of foreign tourists, after many years of trials, the growth being due to the success of Mamaia which came out with international brand, which is better and better known. We are present on international markets, but we need promotion so that our efforts are not in vain' stated the representative of ALDD in a press conference organised in Eforie Nord.
According to her, starting with 7 July there will land on Mihai Kogalniceanu aeroport the first charter operated by an Israeli tour operator, who will bring to the Romanian seaside almost 2,000 Israeli tourists. The tourists opted for hotels in the north of Mamaia.
More charters will bring to Romania's seaside resorts tourists from Poland and Belarus with the former being especially delighted with Romania, given their tendency to come back, says Corina Martin. There is also a very high demand from Slovakia, but there is an issue…
"Slovakians want the Romanian seashore but there's the problem of tarriffs. We reached a compromise. They especially want all-inclusive and I already have an order for 100 rooms in the 2015 summer season from slovakian touroperators so we're talking about 200 slovakian tourists. They estimate a charter of 150-200 tourists, but depending on how negotiations go, tour operators intend to bring four charters a week (…) Slovakia is an important source of tourists for us", says Nicolae Bucovala, president of the hotel owners association in Mamaia.
More and more hotels on the Romanian seashore have adopted all-inclusive services in the past two years, according to a study from the Mareea agency.
"If two years ago we had only 1,500 places available in 3 and 4 star hotels, this year that number has tripled", according to the study.
The same study says that Romanians that used to go to Bulgaria and Greece now opt for an all-inclusive offer in the country.