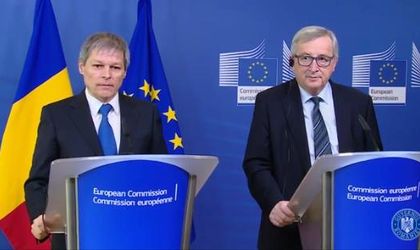 Jean-Claude Juncker, the president of the European Commission, said the monitorization of Romania's judiciary under the Cooperation and Verification Mechanism (MCV) could come to an end during this Commission's mandate.
Juncker became president of the EC in 2015 and will finish his mandate in 2019. The statement was made during a joint press conference with Romanian prime minister Dacian Ciolos, yesterday, in Brussels.
Pointing out that ending the CVM in Romania is not directly linked with ending the CVM in Bulgaria, Juncker further said that "if Romania maintains the level of implementation expected by the European Commission and other member states," the mechanism will come to an end. Last month, the European Council's anti-corruption body praised Romania for its determination in combating corruption in public institutions.
In response to this, Ciolos expressed his hope that "we won't have to reach the last year of this Commissiheon's mandate to find a solution for this", also underlining the fact that the end of CVM doesn't mean the end of t anti-corruption fight too. "It does not mean that in Romania we should not continue the fight against corruption and consolidating what has been done so far, but I consider that there is sufficient maturity in Romania so that this process can be integrated and internalized in the mechanism that the government, the judicial system and the parliament have in their sights," he further added.
At the same time, the two officials also discussed the possibility of Romania adhering to the Schengen area, with the Romanian prime minister "outlining that our country already meets the necessary conditions", as stated in a press release on the government's website.
"Romania's economic situation is good, and the government will take all measures to keep the deficit under the 3 percent of GDP threshold. The economic growth that Romania is enjoying will allow the government to use the fiscal measures adopted lately to further stimulate investment," said the PM.
Also on the agenda was the situation in the Republic of Moldova and the support that Romania is planning on giving to citizens of the neighboring country, "inasmuch as the Chisinau government puts into practice the reform commitments it has made," added the Romanian government press release. Earlier this year, Romanian president Klaus Iohannis saluted the appointment of the new Republic of Moldova government as an important step towards reaching the end of the political crisis in the country, mentioning that Moldova's stability was important for both Romania and the EU.
The Romanian prime minister also met with Joseph Daul, president of the European Popular Party, Johannes Hahn, commissioner for European Neighborhood Policy & Enlargement Negotiations and Kristalina Georgieva, European Commissioner for Budget and Human Resources, during his visit to Brussels.
Andreea Tint