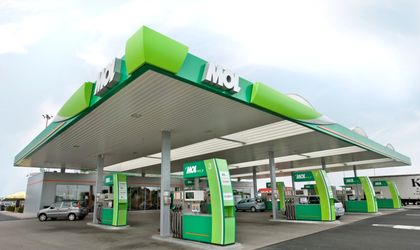 According to data released by the group, retail sales reached 166 kt of LPG and lubricants in the third quarter of 2015, a 21 percent rise from 137 kt reached in Q3 2014.
The company states the main reason for the significant increase is the inorganic network expansion by 42 service stations, of which 39 units were acquired from ENI. Romania had 200 filling stations in September 2015, a strong rise from the 119 registered in September 2014.
During the first nine months of 2015, Romanian Mol retail sales reached 433 kt, going up 16 percent from the previous year's 373 kt.
Gasoline sales reached 43 kt during the third quarter of 2015 (an increase both from the previous quarter, when sales reached 38 kt, and from Q3 2014, when sales reached 35 kt), while in the first nine months they totaled 112 kt (a 17 percent increase year on year, from 96 percent).
Diesel sales also went up to 118 kt in Q3 2015, both compared to the 104 kt registered during Q2 2015 and the 99 kt in Q3 2014. When looking at a three quarters period, sales reached 309 kt in 2015, growing 14 percent from 2014's 270 kt.
According to the report, Romanian transit transmissions of natural gas has lowered significantly during the first nine months of 2015, which, along with a decrease in Ukrainian transit, brought Mol total transit volumes 44 percent lower in Q3 and 18 percent down during the first three quarters.
At Mol group level, retail sales reached 1,136 kt, growing 11 percent from the 1,019 kt in Q3 2014. Gasoline sales saw rises both from the previous quarter and year on year, reaching 340 kt. Gas and heating oils reached 768 kt, once more increasing both from Q2 and y-o-y. Other products saw a slight increase to 28 kt from 24 kt in Q2 2015, while year on year sales almost halved from 55 kt.
During the first nine months the upward trajectory was sustained for gasoline (up 7 percent to 865 kt) and gas and heating oils (up 13 percent to 1,964 kt), while other products dropped 20 percent to 74 kt.
Natalia Martian