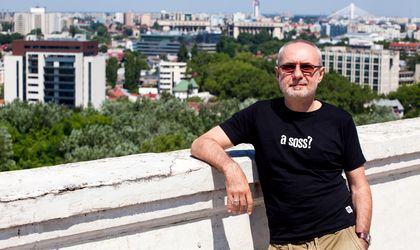 After almost one year with a provisional director, the National Museum of Contemporary Art (MNAC) nowofficially has a new incumbent. Calin Dan, who won the management contest organized by the Culture Ministry, tells BR about some of the museum's priorities for the coming period.
Simona Fodor
After MNAC's former director, art historian and curator Mihai Oroveanu, passed away at the end of August 2013, the museum hired Raluca Velisar as provisional director. Oroveanu had been the museum's director since its establishment in 2001.
"I can say I'm taking over a very interesting institution, both for its geographical location, in a country whose visual culture is in full development, and also for its architectural position, in a complex building, with a heavy history but which has now become a landmark of Bucharest and of our Romanian identity, with the good and the bad of this history," Dan says.
MNAC was established in 2001, through the merger of the National Bureau for Research and Art Exhibitions (Oficiul National pentru Documentare si Expozitii de Arta, ODEA) and the Contemporary Art Department of the National Art Museum of Romania. Its headquarters, in the E4 wing of the Parliament Palace, opened in 2004.
Besides the Parliament Palace headquarters, the MNAC has under its administration two other sites: one at Sala Dalles and other at the Anexa MNAC on Calea Mosilor. "This creates some expectations for these facilities to be dynamic, alive. They need to be populated by an as loyal as possible a public. But at the same time, we have the opportunity to craft various types of programs, in various other places in Bucharest," Dan says.
What's on display?
The new director sees a permanent display as key to the relationship with the museum's visitors. Although the museum has a permanent collection, he says a permanent display is what's missing. "We need a permanent display, which doesn't necessarily need to be the collection. Because if the museum's collection, for one reason or another, is not sufficiently representative, this display, of course, needs to look at the collection, it should look at the history of living art in Romania and bring to the public what we think is significant for the culture of Romania, not necessarily from our deposits but in general," Dan says.
The collection will have to undergo a historical and theoretical analysis and will be part of MNAC's exhibitions in or around the permanent display, but it will be underlined by a thematic or an analytical purpose, the director says, adding that contextualization and critical discourse will be the basis of these permanent displays.
"We will not simply hang on the walls or put up in the halls works by artists who are consensually regarded as important for Romania. We will exhibit works in such a way as to notice some iconographic dynamics, certain social and historical contexts in which they were produced, some harmonious or conflictual meeting points with the art in the region or in Europe," he says, adding that no display could last for more than two years.
There are also plans to give Sala Dalles more prominence. "We would like to make Sala Dalles the meeting place between art in Romania and art in the region, first of all, and then art in Europe in general. As you can see, I always say art in Romania because we cannot speak of Romanian art only. […] There are very many minority artists who are extremely important for our recent history, for the present and for our identity," he explains.
A regional identity
When speaking about the role of the museum, Dan uses the metaphor of a stone in water. "The museum is the rock we throw in water and around it circularities are born." The connections to be made are firstly regional, the new director outlines, placing Romania among the diverse group of other Central and South East European countries, with which it shares a history and with which it needs to strengthen the artistic dialogue. "We are interested in the similarities and the differences, at the levels of artistic production, social-historical context, the artist's psychology and cultural psychology," he says. Regional identity would be the starting point for growing organically towards the recognition of visual arts in Romania. "We want to bring from here the priorities, to present things in a more contextual manner and to succeed where our colleagues in Poland and Hungary have, for instance, meaning to make the phenomenon of visual arts in Romania known, not just the stars of it," Dan explains.
He thinks the moment is right for the industry to come together and work on legislative proposals defining the statute of the artist, creating fiscal frameworks that are favorable to sponsorships and granting patrimonial value to contemporary productions. "A patrimony law was adopted, 10-15 years ago, which arbitrarily ruled that post-war art is not patrimonial. This is a formidable contradiction with the fact that young artists in Romania sell works worth hundreds of euros. This is very good for them but it would be very good for us as museums to be able to have a relationship with these works but within a patrimony framework," Dan explains.
The MNAC visitor
One focus of the museum is attracting more visitors, along with getting to know its audience better – something that has yet to happen in the absence of appropriate analysis tools – attracting new public segments and devising various loyalty strategies to keep them coming back. The new director says that MNAC will have to hold exhibitions that are interesting enough to attract people, regardless of logistical hindrances such as the Parliament Palace location or being part of a high-security building.
"Judging from some general information we have […] what we found significant was that young professionals are the keenest visitors. They are people aged 28 to 37, with average or above average income, working in creative professions. They are the cohort that comes here the most. The young follow, but at a worryingly lower percentage. People over 40, with a different family and economic dynamic, do not come as much. And I think this creates a double problem: we don't have a young audience to make loyal, and, on the other hand, people of greater means come less often to the museum," Dan says.
Still, efforts are being made in this respect, and the museum already offers several educational programs encouraging children to explore the museum, one audience segment that could be grown in time. Another is groups coming from arts high schools and universities and a generally more studious public. A 12- to 16-month exhibition plan would also help with mapping potential new audiences. Part of the task is convincing people in the private sector that contemporary art is the future of the cultural sector and that it plays a more significant, growing role all over the world, said Dan.
simona.fodor@business-review.ro
 Getting to the museum
Izvor 2-4 (Palace of Parliament building – E4 Wing, entrance from Calea 13 Septembrie)
Metro: Izvor station
Overground transport: Buses 136, 385
Ticket price: RON 10 for adults, RON 5 for concessions; students and children enter free
What's on at MNAC
SenzArt
June 5-November 30
The SenzArt project is dedicated to people with sight and hearing disabilities and aims to popularize the opportunities contemporary art offers to communicate at various levels of perception, with the help of a varied sensorial vocabulary.
SARKIS – A l'autre bout de l'arc en ciel
June 15-September 07
A reference artist of conceptual art, Sarkis presents in Bucharest a filter of images and concepts meant to offer a different perspective on the perception of the everyday, uncovering hidden aspects and new emotions.
Europe. South East – Recorded
Memories
June 22-August 10
A Goethe Institute project, in partnership with the Museum fur Photographie Braunschweig, the exhibition gathers works by 23 artists from South East European countries, exploring topics such as collective memory, the culture of remembering, and the role of the image in these projects.
Shape. Noise
April 25-September 15
The exhibition included works by the following artists: Apparatus 22, Monotremu, Sillyconductor, Sergiu Doroftei, Bogdan Susma and Ion Cotenescu.
Find out more about the current MNAC exhibitions and schedule at www.mnac.ro.
With a little help from MNAC's friends
The Amicii MNAC (Friends of MNAC) association was set up in 2008 with the stated objective to support MNAC in its mission and activities while promoting a better understanding and broader visibility for contemporary art to the general Romanian public.
Its activities include fundraising events and providing financial and logistic support for MNAC's exhibitions and acquisition campaigns. Projects it has helped fund include the SenzArt Call for Applications, the Children's Christmas at MNAC, Q.E.D. by Mircea Cantor, Printshop@MNAC for Children, and fully supporting the costs of the gallery's direct mailing services and social media marketing in 2013.