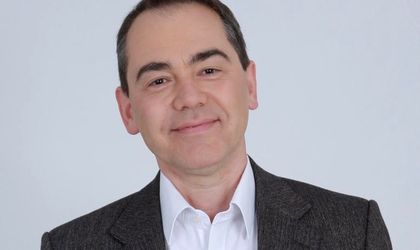 Vlad Alexandrescu (in picture), the Romanian Minister of Culture, who has been in charge of the ministry from November 17, 2015, has revealed the plans of the ministry for this year, named the Strategy for Culture and National Patrimony.
The document consists of 15 main points, among which the most important are the construction of a new concert hall, a promise that is made by every Minister of Culture for at least five years, revamping museums and theaters across Romania, reorganizing the minister, changing the management of the cultural institutions that are subordinated to the ministry, financing cultural programs, a new cinema law, negotiation for financing within the Financial Mechanism SEE 2015-2020, public debating the situation of the Patrimony Code as well as the development of the legal framework required to initiate a national program for saving / strengthening the heritage buildings with high seismic risk which operate cultural institution.
Currently, the Ministry of Culture has under radar the National History Museum (Bucharest), Lucian Blaga National Theatre (Cluj-Napoca), The Culture's Palace (Iasi), the National Peasant Museum (Bucharest), George Enescu National Museum – Cantacuzino Palace (Bucharest), Kalinderu Museum (Bucharest), Omnia French Library (Craiova). Most of these buildings' restoration has started years ago, but the money invested wasn't sufficient to finish up.
Also, Vlad Alexandrescu plans to create a new Cinema Law by autumn 2016 and to improve the organization of the National Film Centre. "The Ministry of Culture decided that the Cinema Law has managed to finance domestic films up to now, but it has failed in reinforcing Romanian cinema as national cultural value. The new law will improve the distribution and promotion of  domestic cinema in Romania, also focusing on film education for all ages and social categories", notes www.filmneweurope.com.
Last week, for the National Cultural Day, the president Klaus Johannis highlighted the paradoxes in Romania's culture. "On one hand, we have international award-winning films and a series of movies that we can be really proud of, but, on the other hand, we have a network of public cinemas that is unable to screen them. Same is happening in dramaturgy. There is a paradox between international prestige and the theaters that close down due to the spaces located in buildings with high seismic risk, between the exceptional heritage and the museums that are being closed due to the lack of space or staff, between remarkable historic monuments and the insufficient budget allocated for their maintenance or restoration," the President said in his speech which took place at the Romanian Academy.
Oana Vasiliu