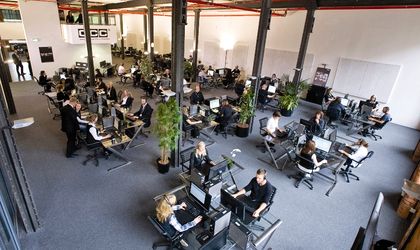 Mid-sized companies will trigger new growth for the outsourcing market in the medium term, as more and more of these firms in Romania and the region are choosing to outsource services to cover the deficit of skills and reduce costs.
By Otilia Haraga
[restrict]
"When the outsourcing phenomenon was gaining momentum globally, in the 1980s and 1990s, this was first of all a model that large companies used to cut costs. (…) Now it is the turn of mid-sized firms to go through an outsourcing process similar to the one that most multinationals have gone through. Of course, there are certain differences, mainly due to the different experiences of the transition of business processes," says Vladimir Sterescu, country manager of CGS Romania.
He added that, currently, outsourcing is a "business trend" and a "core issue" in the strategy of many firms. "Over the next two or three years, mid-sized companies will be the ones that generate a large chunk of the new projects on the outsourcing market," he says.
CGS currently has three local contact centers, in Bucharest, Brasov and Sibiu, with approximately 3,000 employees. Romania is a regional hub for contact center services and also a hub for CGS, since the bulk of the company's total 5,500 employees are based here.
"In the first two months of 2014 alone we advertised 250 jobs for Romanian, English, French, Spanish, German, Italian and Dutch speakers. Most were newly created posts, because we won new clients. The centers we have still offer the necessary space to accommodate new positions. But of course, after reaching a certain growth level, we must consider opening new locations," says the country manager.
The cost of labor in Romania in this industry is not the lowest in the European Union, as Bulgaria has a lower average salary and lower corporate tax. However, on the positive side, Romania can always meet larger activity volumes and provide a higher number of jobs, adds Sterescu.
"Although the call center market is relatively mature, it has developed over the past ten years. During this time, the BPO industry in Romania has consolidated around medium and large local and international companies that continue to develop support centers in various cities, and, as happened in 2013, major international players have established a presence on the Romanian market via acquisitions," he points out.
Most of the activities outsourced to the CGS contact centers in Romania cover front-office operations and come from industries such as telecom, banking, IT, insurance, healthcare and retail.
"Romania remains one of the top countries for multilingual call center outsourcing in Europe, according to a recent A&T Kearney ranking. The main reasons are the excellent language skills, strong aptitude for IT, and cultural proximity to Western Europe. In addition to that, Romanians are great problem solvers, which is a very important aspect in delivering great customer experience," says Gregoire Vigroux, sales & marketing director of TELUS International Europe.
Today, about 30,000 employees work in Romanian call centers and the BPO sector, says Vigroux. With more than half of them based in Bucharest, this creates strong competition to attract the very best talent from the labor market.
"To overcome this issue, TELUS International Europe has launched a call center in a city where there is no call center competition at all. We launched our Craiova site in 2012 and today it has 100 employees," he says.
TELUS International currently has 400 employees in Romania, divided between two centers, with 300 in Bucharest and the rest in Craiova. The company plans to double its local staff to reach 800 by December 2014.
"Only a few international players have entered the Romanian market over the past couple of years. Romania is a mature outsourcing destination," says Vigroux.
Cloud, mobility and analytics shape sector
Several major business and technology trends that will have a substantial impact are currently taking shape in the contact center industry. Firms will adopt more and more cloud applications and strengthen relations with clients via mobile devices with the help of dedicated applications. Organizations' need to manage interactions via social media will increase and analytical solutions will gain momentum, according to Interactive Intelligence.
"More and more companies have become convinced of the benefits of software solutions in the cloud, and if this trend is very visible in the United States right now, Eastern Europe and other emerging markets are catching up after a delay in adopting cloud solutions," says Marcin Grygielski, territory manager for Eastern Europe at Interactive Intelligence.
Approximately 30 percent of contact centers are contemplating moving their operations to the cloud this year, according to an online survey carried out by the company in January.
Furthermore, more than 7 percent of companies have already drawn up plans to shift their activities to the cloud. And 25 percent of contact centers have already moved some of their business communication applications there.
"The number of agents in contact centers who will be using cloud solutions to provide customer relations services is expected to increase by approximately 20 percent this year, while the number using systems implemented on location will grow by only 2 percent," adds Grygielski.
Even though most companies are cautious about cloud, due to the technological, legal and security challenges, there is currently an understanding of this business model and, consequently, much greater acceptance that cloud can be secure.
This year, players expect considerable progress in providing customer service via mobile devices, with the help of dedicated applications, as many top companies are channeling their investments and development strategies in this direction.
Marketing departments and contact centers are also poised to have a much tighter collaboration to generate better customer interaction.
Approximately 60 percent of companies are in favor of channeling investments to a mobile outlet to deliver better customer experience. The investments are going into both creating new dedicated mobile applications as well as improving existing ones, according to Interactive Intelligence data.
Last but not least, the number of analytical solutions will also grow, to generate a deeper understanding of business development trends. By analyzing past and present behavior, future behavior can be more easily predicted, which will create better customer experience. As a result, the need for platforms that will more rapidly process the information will increase, according to the firm.
[/restrict]