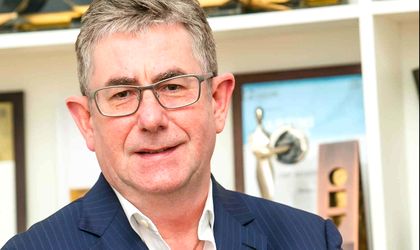 Michael Lee, the managing director of IAA World, tells Business Review, in an exclusive interview, that the growth of the local advertising market follows the global trend.
Romanita Oprea
He added that in our country, the digital ads industry is posting double digit growth rates, while TV is still relevant for advertisers.
Lee has has gathered more than 30 years of activity as an IAA member. He was awarded the "IAA Samir Fares" in 2006 and in October 2013 he received the IAA Champion distinction. Lee is also an entrepreneur, being the CEO of Lee and Steel LLC, a media management company.
Business Review will soon publish the second part of this extensive interview.
Between the British and the American advertising, in terms of creativity, I guess the British one is your favorite, no?
I think it's a cultural thing too. In fact I was just looking at Twitter this morning and somebody was commenting about Coca-Cola and a former well-known writer that is retired now and he said "It's not the brand that got small, is the campaigns". Which is a pretty interesting take on it all, especially in the actual context. In the States, were the life expectancy of a chief marketing officer used to be about 18 months in a big company (you are behind a big brand, with an agency at your side, in 18 months you are gone and somebody else is taking your place) the situation is changing. The life expectancy of a CMO is growing, but, at the same time, there is still a lot of short-termism in advertising. And Martin Sorrel talks about that: everything is on a short term, on a shared prize, not a lot of long-term investment.
So, coming back to your question, I think it's a cultural thing. Brands and their partners have to do whatever they think is the right thing to do. But being an English speaker I do find sometimes the commercial in America as being a little big boring comparing to the UK.
Talking about Romania, how do you consider it to be in terms of creativity? Do you see any growth during the last years?
It's certainly been a growth in this market place and all of the projections are continuing growth. But it's in the 4 percent or so range, which is in-line with global growth expectations. In the media categories, if print and radio continue their decline, the beneficiary of that is been digital. Which is seeing a double digit growth year after year in the last period of time. Television is still a big part of the advertising here.
I would look there (e.n. at the GMP Advertising wall of awards and trophies) as a statement of the Romanian advertising creativity and is pretty impressive to see such a range of awards from all the awards shows. There is no kind of boundary from creativity. It really has to come from the heart and from the people that are involved in those projects.
What do you think it has changed in the last years in the IAA and what do you expect to change for the next two years at IAA Global?
I think that the rapid change in the advertising industry and the fact that the change originates in different parts of the world and, ultimately, migrates around the world, has made the role of a global trade organization like IAA more valuable and more relevant. I often sight the fact that IAA is talking about fraud in the internet, about 5 years before some other digital trade associations. If you look at plane paper packaging, as a topic which at the moment is very much related to the tobacco packaging has been a really big piece of legislation for the EU. The IAA is talking about that first, it's started in Australia. What we know for sure, like night follows day, when these regulations start to be applied for one category, it doesn't take very long to morph and transform into another category. It could be pharmaceutical, it could be fragrances, it could be alcohol…who knows? And the IAA, with its global network and membership, has been able to bring forth and highlight these kind of issues around the world before they sometimes hit another markets. So I think that has been pretty important.
We, like any other business and trade associations, faced our challenges and had to be really close to all the operations and we are embarking in a new strategy: to be in the content business ourselves. To be a trade organization, but, in some expects, to all be a media, a news organization environment, because we are able to aggregate and bring together many pieces of content from all around the world and curate it and distribute it. Historically, the IAA has been involved into the freedom of commercial speech, defending the unwanted barriers on advertising and on for industry issues, which continues to be a very important part of our chapter, whether is at global conferences of other initiatives. And our chapter network is crucial. And that makes us quite unique: the fact that we have a very good presence on the ground in 45 + countries, sometimes very big and active, where the IAA membership represents a very solid nucleus in the advertising industry and that are able to answer the debates that are arising from time to time in the ad industry. We are more aware. Our voice might be stronger on some controversial issues of the industry.
And then, in the role of talent and education, we've got 50 + universities that are accredited to the IAA. We've held 3 student conferences which we called the IAA Apprentices, being a bridge between the classroom and the workplace.  And that is has been really well received and only reaffirming in our eyes the contribution that we can make in that aria. And that because we found that there is a real need for that. A lot of people in the industry talk about talent and the need for talent, but on the practical side of the things I don't see a lot being done. But if we can be a forum to help clients, agencies, the media companies, others, to contribute towards the ability to draw in and retain good talent in the advertising industry, than that seems to be very popular. I've spent quite a lot of time in the last 12 months with our faculty members around the world, talking to them and the fact is that the advertising industry is changing faster than we are being told, so there is a bog opportunity, particularly in the aria of digital-social media, to insure that the young people coming into the work force have a more business savvy insight in the advertising industry and in the industry that we are working.
I often spend a lot of time in IAA talking about the changes that are happening in the industry, but these days these changings are affecting us at the same time as well. We have to be responsive, we have to look at our business model, we have to look for more opportunities for the IAA around the world. But I think that our membership is stable, in some arias growing. We had a very successful conference in Africa last year in Ghana, under the headline" What's coming next?" (a trademark that we have adopted several years ago). And we are planning another conference in Africa during the course of this year. Although there are some economical challenges in that part of the world (like the price of the oil dropping), it's a continent with over 1 billion people, fastest birth rate in the world, and offers great opportunities. We are looking forward very much to contributing to the advertising, marketing & communication story in those parts of the world.
When you took over the position in IAA what were your expectations and your desires? How much did you accomplish of them and what do you still want for the future?
It's not just being managing director, because we have a team as well in the IAA, a leadership team, and we work all very, very closely. One of my expectations is to make the International Advertising Association the most relevant and authoritative trade association for the marketing & communications industry. It's a long road. Over the last few years, we set out to deliver value to our membership and we've been working really hard on that aria. We've set out to create a whole class advertising event, I am very proud of that record in our aria with stunning world congresses in Moscow, Beijing, with "What's Coming Next?" conferences that we've had in London and Prague. We've also been working really hard on the aria of education and talent and it's very clear to us that is a very big opportunity in that arena. The young people that I have come in contact with are simply amazing. Their appetite to work more, to network more, to learn more, to understand the advertising industry, is really phenomenal. And what we've been trying with the IAA Apprentice is to get insights into what is the advertising industry looking like – in terms of jobs or how is changing -, but also on the practical side, which is sometimes very difficult to get. How do you communicate?, How you interview?, What should your resume look like?, If you are firing somebody, hoe many emails are too many emails?, What is the difference about being enthusiastic and being a pest? This practical things that are hugely important. And I think that within the IAA community is very refreshing to see the willingness of our senior members to be a part of the education program, to devote time and resources to be a part of that, because they truly remember the days when they were young trying to get into the industry.
Looking ahead, I think some of the objectives we have at the moment are enhancing our website, we will be introducing new IAA plus content out in the coming month or so, which will be the aggregated place for our events. One thing that was new to us, last year for example, was that we took physical space at Cannes Lions and we brought our own film crew to Cannes to create our own interviews with the famous and the not-so famous. We need to do more of that. We don't need to rely on other arias of the advertising industry to be creating news, when we can be creating our own news.
We have a great volunteer team, in fact Felix (e.n. Felix Tataru – President at GMP Group, Global Senior Vice President at International Advertising Association) will assume the management of IAA in June. We rely very much in our volunteers. It's rewarding to see that so many people are willing to contribute time, and money often, because we had board meetings and executive meetings and all that coasts, everybody needs to be careful these days with budgets and all that kind of things. But we have a really good team in place and I am really optimistic about the IAA.
What do you like more about the advertising world and what don't you like about it?
I suppose it must be the people. I think that the people in the industry are ultimately the DNA of the business. And the relationships with the different cultures around the world. I've spent a lot of time travelling and I think that I operate with a kind of sales-lens if you like and I've always been a great believer in meeting people face-to-face. Not necessarily all the time, but it's very important to meet people, to get to know them, to have a change to talk about what we are doing at the IAA. We can only do so much by skype talk and so much by e-mail and at some point to take some time and talk with the people is priceless.
What I don't like about the industry, I suppose, there are instances when the industry talks a lot and provides interesting headlines, but it's very difficult to find out if anything is ever done or if there are really results on that aria.
But I think the advertising aria is a very exciting place and we are looking forward to have a very busy 2016.