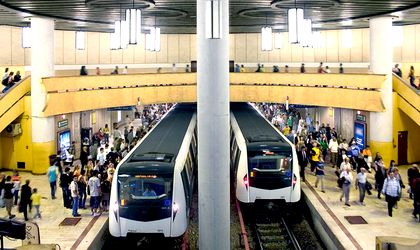 Subway transportation provider Metrorex has included in its budget for this year RON 1.43 billion (EUR 308.68 million) for investments, according to the Transport Ministry.
The budget includes revenues totaling RON 775.6 million, while expenditures are forecast to reach the same level.
In terms of revenues, RON 360 million of the total forecast are subsidies, based on legal provisions. Staff costs are set at RON 348.2 million, of which RON 267.1 million cover salaries and 23.01 million are allocated for bonuses.
The number of employees is forecast to reach 4,560 at the end of the year. The average monthly earnings, determined based on the wage expenses, is set to RON 5028.93.
 Metrorex projects outstanding payments totaling RON 4.9 million for this year, while outstanding receivables are forecast at RON 5.3 million.
The company posted a turnover of RON 567.6 million at the end of 2014, an 8 percent increase compared to the previous year, having a little over 4,000 employees.
Metrorex is a state owned company in which the Ministry of Transport holds 100 percent of shares.
Natalia Martian