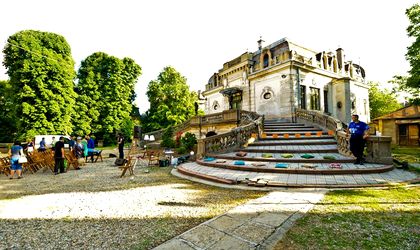 Sunday, August 2, at 20:00, Merci Charity Boutique will organize an evening of outdoor jazz in the garden of George Enescu National Museum, shows the event Facebook page.
The proceeds from participants' donations will be used for dental treatment of children with oncological diseases in Bucharest and Constanta and other social cases, through the Merciluta Fairy project.
The event will have Luiza Zan, Gyarfas Istvan and Sarik Peter as singers.
Luiza Zan has sang alongside big names in Romania and abroad, of which Sorin Romanescu, Mircea Tiberian, Pedro Negrescu, Romeo Cosma, Alex Man, Abert Tajti, Liviu Butoi, Rick Condit, Dave Stamps, Petras Geniusas, Corinne Chapelle and others. Her passion for jazz brought her the second prize in Shure Jazz Voice Competition within the Montreux Jazz Festival, the oldest jazz festival in Europe and one of the most acclaimed in the world.
Gyarfas Istvan is one of the most popular Hungarian jazz personalities. After graduating from college he began his career as a violinist, but is internationally known for his guitar playing. He played with renowned artists as: Peter Erskine, Scott Hamilton, Herbie Mann and Ken Peplowsky.
Sarik Peter has won many awards for his piano works both in Hungary and worldwide. The Sarik Peter Trio is now one of the most popular jazz projects in Hungary, with their last album, "Jazz Request Show", winning the Hungarian Grammy – the Phonogram award – for best album of the year.
Merci Charity Boutique is a nonprofit charity to set up the first charitable Concept Store in the country. The purpose of the association is to provide support to humanitarian causes, with a main focus on children with medical and social problems. Ongoing projects: Fairy Merciluta (dental treatment for children with oncological diseases and children from poor families), Dunno (Habarnam) – culture for children (children interaction with the cultural area), Dare to dream (project addressed to children are in an advanced stage of disease, for which they fulfill a dream / desire), Tomorrow for Children (supporting talented children).
Natalia Martian