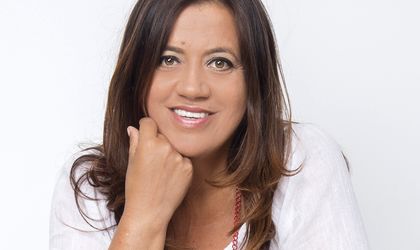 Mirela Retegan, Zurli's founder, is the event speaker at Meet the WOMAN!, organized by Women in Bucharest, on Wednesday, September 23rd, 2015, at 19:00, at Capital Plaza Hotel. The event topic will be "The First Business: when and how do you know it is the right time to start on your own?".
Meet the WOMAN! is a business networking event which takes place monthly and addresses both entrepreneurs and women who work in companies and are specialists in a field.
"We begin the Meet the WOMAN! events series this fall with a highly useful topic for people who want to start a business but are not convinced it is the right time or do not know what the first necessary steps are in this direction. Mirela Retegan will share with us her experience and energy so as to start fall with the necessary determination, inspiration and knowledge to achieve our entrepreneurial goals," stated Alice Botnarenco, Women in Business founder and president.
MIRELA RETEGAN
At 36, Mirela Retegan invented Zurli, a concept which was going to revolutionize kids' parties. Although there were other hundreds of companies on the market, Mirela believed she would make a difference, for she knew, understood and could make for others all the things she had already done for her child. Out of love for children, Mirela Retegan created the Zurli Phenomenon, the largest private theatre in Romania with 100% Romanian characters and stories, a concept which replaces formal education with an imaginative show.
Mirela has an extensive experience in media: radio, TV and print media where she led local stations (Radio Transilvania), she wrote news, was involved in entertainment and had her own show. She was also a BBC, PRO TV and Mediafax correspondent.
NETWORKING TECHNIQUES WITH PAUL RENAUD
The new Meet the WOMAN! event series will also have Paul Renaud as a guest. He is Executive Coach and author of the book "A Networking Book" and he will present the best networking techniques and the benefits of connecting with other people.
Paul Renaud has over 31 years professional experience, 15 of them in executive positions in companies in 10 countries, is an Executive Coach qualified for any level of management, specialized in optimizing performance and delivers the workshop Masters of Networking, where he puts his experience in the field at the disposal of the participants.
EVENT ACCESS
The attendance fee is RON 90 (no VAT/coffee break included).
Event access is done only by booking and registration confirmation. Women in Business members have priority and benefit from a 25% discount from the attendance fee.
The attendance fee for members is RON 67.5 (no VAT/coffee break included).
You can find out what benefits a Woman in Business member has and listen to the testimonials of other members!
Registrations are done at: membership@femei-in-afaceri.ro and for further details call 0762 677 111.
EVENT SCHEDULE
18:30 – Participant registration & coffee
19:00 – Event starts
19:15 – Networking techniques with Paul Renaud
19:25 – Each participant introduces herself and the business/job she has
20:10 – A presentation on the topic is delivered by the event speaker
20:20 – Q&A
20:40 – Raffle with prizes offered by partners
20:45 – Business Networking
PARTNERS
Capital Plaza Hotel • OPTIblu • Nomenius • Level Tour • A_BEST • EnRose • Fundatia Calea Victoriei • Editura Litera • Conga by OPTIblu • ALISIA ENCO
ABOUT WOMEN IN BUSINESS
Founded in 2009 by Alice Botnarenco, the Women in Business organization develops projects which address entrepreneurs and women who work in company. In 2012 she represented Romania at Global Summit of Women, the largest economic forum for women, relaunched the site www.femei-in-afaceri.ro, positioned as an information portal from the female business environment and created the first online business platform for women in Romania.
Initially an online community, Women in Business has at present over 2000 members on LinkedIn and a few thousand participants at the over 200 business networking events which took place during 6 years of activity.