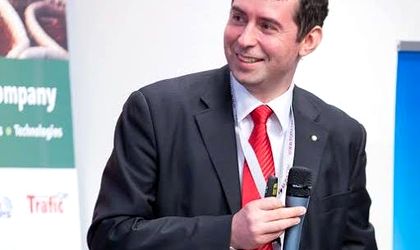 Florin Campeanu, CEO Rentrop & Straton, is the event speaker for Meet the MAN!, organized by Women in Business Bucharest on Tuesday, June 3, 2014 at 19:00 at Capital Plaza Hotel. The event topic will be Marketing in the Digital Era.
"We are going through a time in which almost everything happens online. That is why me and Florin have chosen this topic for the next event because we consider it is important to know how to make that change, how to promote yourself and use the tools the digital world puts at your disposal. We will also find out what it takes to attract customers in a new, dynamic environment in a constant state of change", stated Alice Botnarenco, Women in Business founder and
FLORIN CAMPEANU
With a 15-year experience in publishing and over 10 years in digital marketing, Florin Campeanu brought Rentrop & Straton Group from the print to the digital era. The marketing and consultancy company in business annually launches over 350 products from the specialized information area, which has led to the emergence of a web agency.
Thus, from 2006, Florin has been coordinating the activities of Fokus Digital Services, which is an agency that offers the following services: programming, web design, branding & visual identity, SEO, Google AdWords. Innovation is the key word in the group he runs, Florin being an example in this direction. As a natural consequence, in 2009 he set up Fokus Interactive, an online advertisement division which offers media services (consultancy and integrated promotional campaigns), Florin creating communication and promotion strategies for big and medium customers as Chief Visionary
EVENT ATTENDANCE
The participation fee is 90 RON (no VAT/ coffee break included). You can attend the event only by reserving and confirming. Women in Business members have priority and receive 25% discount off the participation fee.
Find out the Women in Business members' benefits and listen to the other members' testimonials! You can register at: inscrieri@femei-in-afaceri.ro, and for further information contact us at: 0762 677
EVENT AGENDA
18:30 – Participant registration & coffee • 19:00 – Event starts
19:15 – Each participant introduces herself and the business/job she has
20:00 – The event speaker delivers the speech on the topic
20:20 – Q&A • 20:40 – Raffle • 20:45 – Business Networking