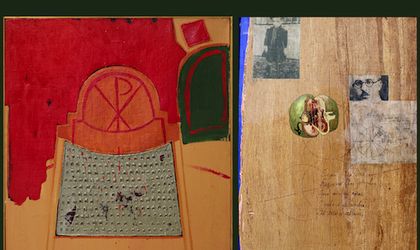 The Romanian Cultural Institute in New York, in partnership with Gallery RIVAA, organizes the painting exhibition Memory – Continuity, signed by the artists Marin Gherasim and Alina Gherasim.
The opening reception will take place on Saturday, May 7, 2016, between 6-9 PM, at Gallery RIVAA and it will be on display until May 29.
The joint painting exhibition Memory – Continuity featuring Marin Gherasim and his daughter Alina Gherasim in New York fulfills a longstanding dream of the artists. The invitation by the Romanian Cultural Institute in New York comes to expand the boundaries, so far just European, of the two. Marking the peak of Alina Gherasim's stylistic maturity, this exhibition comes to confirm the opportunity of the artistic dialog between her father's imagistic stability and her vision of change. Their artistic visions are so different, however completing each other in recalling the memory as a steady warrant of their stylistic continuity. Their visitors in New York will have the chance to admire the visual contrasts between Mr. Gherasim's unparalleled display of the privileged, central location of the long-lasting against his daughter's melted, throbbed images.
Marin Gherasim (b.1937, Rădăuți, Suceava County) graduated from the "Nicolae Grigorescu" Institute of Fine Arts in 1962, where, between 1963-1983, he was an Assistant Professor. Between 1984-1990 he worked as an art historian at the Institute of Art History of the Romanian Academy. From 1990 to 2008, he has been a Professor at the Art Academy of Bucharest (today, the National University of Arts). Since 1966, he has been a member of the Romanian Artists' Union, whose Honorary President he became in 2012. He was a founding member of Group 9+1.
Alina Gherasim (b. 1973, Bucharest) is a member of the Romanian Artists' Union, the Painting Department, and the director of Agora Studio in Bucharest.
Oana Vasiliu / photo Mihai Constantineanu