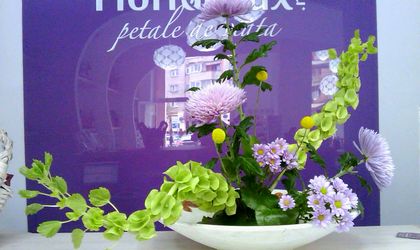 Mediafax Group, one of the most important media companies in Romania and BAC Investment Banking, one of the biggest players on the local consultancy market,  have joined the shareholding structure of FlorideLux, starting June 20, 2014, according to a press release.
According to FlorideLux's representatives, negotiations with the two investors lasted a year, after beeing initiated in 2013's VentureConnect event. After the necessary discussions, BAC Investment Banking bought a 25 percent share of the company and Mediafax Group a 10 percent share.
FlorideLux hopes that the new capital infusion will help it consolidate its market-leader position in the online flower commerce segment, as well as entering new markets, a process that will run in parallel with developing new offline franchises.
"BAC has decided to invest in FlorideLux taking into account, especially, the unique management team, led by Marius Dosinescu and Ioana Buiacu, as well as the high growth potential derived from an excellent defined business model, in a very fragmented field of activity. We are excited by the opportunity to contribute in building one of the most famous brands on the flower and flowershop market in Romania, a market that is on the fast track for growth and to support FlorideLux in taking its franchise model further on a national level, as well as consolidating the company as the biggest online retailer on this market", according to Dan Visoiu, Partner, BAC Investment Banking.
"Acquiring 10 percent of FlorideLux is a natural step for Mediafax Group in the online services segment. We have been looking at this market for the past couple of years and we are confident that this new investment will spur FlorideLux's development, in parallel with accelerating our own initiatives in ecommerce", according to Orlando Nicoara, general director for Mediafax Group.
At the this time, FlorideLux has franchise flowershops in Brasov, Cluj, Arad, Pitesti and Iasi.