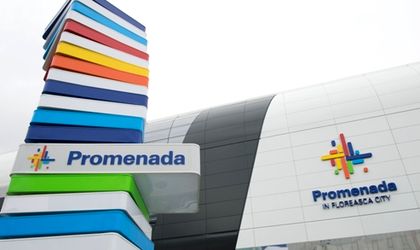 Vienna based real estate developer Raiffeisen Evolution is negotiating the sale of the Promenada shopping center, a EUR 130 million investment that opened less than one year ago in Bucharest, sources on the real estate market told Mediafax.
"Raiffeisen evolution received offers from multiple investors, active on the market but also from newcomers and is currently managing a short-list with the best five offers", according to cited sources.
Among the investors there is also GTS real-estate developer who currently owns the City Gate office building along with Galleria commercial centers in Arad, Piatra Neamt and Buzau. Another potential buyer is Ioannis Papalekas, one of the most active buyers of real estate projects in the last few years
The negotiations might take some time given that the Austrian company is looking to sell the project for at least EUR 150 million, according to the same sources. The buyer would have to take on the EUR 95 million bank loan that Raiffeisen Evolution contracted from Raiffeisen Bank to develop the mall.
Contacted by the media, Raiffeisen Evolution representatives declined to comment.
The 35,000-sqm Promenada shopping mall in northern Bucharest officially opened in October last year, a year and a half after construction kicked off. Real estate developer Raiffeisen Evolution announced at the time it was already looking for a buyer.
"We are a developer so yes, we are looking to sell, just as we have sold our other projects," said Markus Neurauter, managing director of Raiffeisen Evolution.
The Promenada mall is located at the crossroads of Floreasca Road, Pipera Road and Barbu Vacarescu Street in an area of Bucharest where several office projects have been built over the past few years. Three of these projects – Oracle Tower, Sky Tower and Floreasca City Center Office – were developed by Raiffeisen Evolution and later sold.
Austrian real estate developer Raiffeisen Evolution has been active in Romania since 2003.