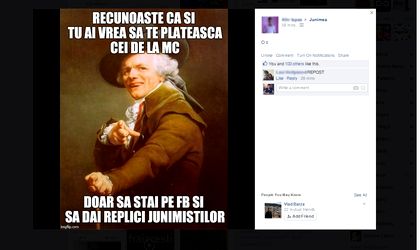 Thousands of private messages in 7 days, thousands of organically gained fans on the McDonald's Romania Facebook page and an activation created of a special target group – Junimea (the Joungsters), represent the first campaign created in Dark Social, by a brand, in Romania.  
McDonald's Romania, along with the digital agency Tribal WorldWide Romania, have created and launched the campaign #MecSalutăJunimea. Dark Social is a community of social networks' users or of users and brands, the communication being done by private messages that are available to the general public. It's a community that has a great potential, unexplored yet, at the level of a campaign.
When groups of teenagers have started to "troll" the brands, challenging them with several jokes and questions, under the Junimea umbrella, McDonald's Facebook page was one of the main targets. The fans were really surprised that their messages were answered so the fans were taking screenshots of the answers and were posting them on the Junimea group, hoping that they will obtain likes with this "original content". The answers have generated even more messages and in a short period of time their number reached thousands.
The messages' marathon generated sympathy from the group for McDonald's Romania, an organic growth of fans' number and of the published content in social media that was mentioning the brand. In order to take the interaction with the fans to another level, Tribal WorldWide Romania developed a dedicated website for the brand – #MecSalutaJunimea (the mobile version). Moreover, beyond "scroll and troll" the fans were awarded with 1000 prizes, in the McDonald's spirit.
"Teenagers represent one of the most important segment of consumers for McDonald's and we are close to them and their communities, both online and offline. What was different this time was the fact that they looked for us, they wanted to enter in this unconventional conversation with our brand. And, because we are not afraid of testing new waters and territories, we wanted to explore the potential of this <>. We wanted to show them  that we can joke, but also take them seriously as a target, by entering their game. Moreover, we wanted to be active and to show them that McDonald's is close to them and treasures them, by offering them an original website and some prizes," said Ramona Ciocodei, Communication Manager McDonald's Romania.
Romanita Oprea