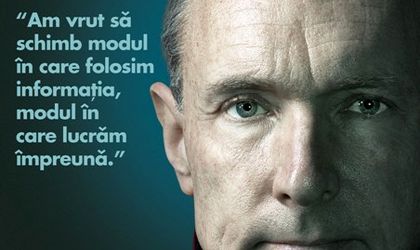 Tim Berners-Lee, the inventor of the World Wide Web and the one considered the father of the Internet, will be present in Romania to the third McCann/Thiess Conference entitled "A WWVVisionary Lesson". He will be present in Bucharest on November 12th and will speak about the motivation that was behind the idea of World Wide Web and about the way this idea was turned into reality. The entrance is free of charge, by invitation only.
Graduated from Oxford, Berners-Lee invented WWW in 1989 and the components he developed at that time – URL, HTTP or HTML – were refined once tech expanded and are essential even today for surfing the internet.
"It is almost impossible to imagine how world would look alike without World Wide Web. WWW are maybe the most important 3 letters in the recent history of civilization, those who transformed radically the way we think, communicate, consume and live. Our ambition is to bring to Romania people that have influenced the world as we speak. This year we will have two more events," said Bogdan Enoiu, general manager McCann Worldgroup Romania.
"There is nothing more exciting than bringing in Romania someone who has changed this world. The people that will come and inspire everyone will be the seeds that will bring us to a better future. McCann is part of the community, part of Romania," added Sagit Tzur Lahav, CEO McCann Bucharest.
Tim Berners-Lee continues to be part of WWW's story and holds management positions in multiple associations and organizations aiming to continuously develop the world wide web.
McCann/Thiess's conference "A WWVVisionary Lesson" is organized by McCann Worldgroup Romania and Thiess Holding, with support from Pro TV (media sponsor) and from the official sponsor BRD GroupeSociete-Generale and UPC Business.
 Romanita Oprea