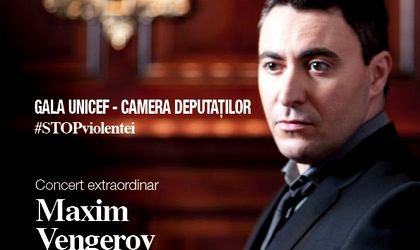 UNICEF Romania and the Chamber of Deputies will hold a special Fundraising Gala on November 20 on International Children's Rights Day. Famous musician Maxim Vangerov is the gala's special guest with a scheduled performance on the night of the event.
Maxim Vangerov was appointed Goodwill Ambassador for UNICEF in 1997, the first classical musician to receive this distinction. The award winning conductor has performed with the world's most illustrious orchestras: Berlin Philharmonic, London Symphony Orchestra, BBC Symphony Orchestra, Toronto and Montreal Symphony Orchestra Mariinsky Theatre Orchestra, Chicago Symphony Orchestra.
The Bucharest event is part of the "Verbal violence hurts" campaign, which UNICEF started running in October 2014 and will last throughout the first half of next year.
"If we manage to ensure a better future for our children then we can surely ensure a better future for our society", Valeriu Zgonea said, president of the Chamber of Deputies.
The Gala will reunite members of the Government, Parliament, diplomatic core, business community, artists and public figures. Andreea Marin, Goodwill Ambassador in Romania, will act as host.
A highlight in the event schedule is the Doll auction, where donors can bid for dolls designed by children and famous designers alike.
"Protecting our children against any kind of violence is the most valuable investment a country can make in the long term and every one of us is responsible for it. I trust that Maxim Vangerov, Goodwill Ambassadeur, will help us to mobilize more people for the benefit of vulnerable children", according to Sandie Blanchet, UNICEF representative in Romania.