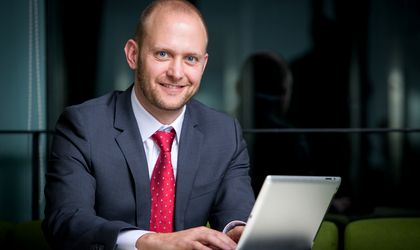 Vodafone Romania recently launched a series of services intended to improve customer experience, such as the Vodafone Backup +, which offers users 25 GB of cloud storage, and the Smart Archive and video surveillance services in the cloud for businesses. Markus Lause, director of the enterprise business unit, told BR the operator's priorities going forward.
What can businesses expect from Vodafone in terms of new offers and services?
Mobile and fixed communication is the core of what we do and we need to enable Romanian business productivity. (…) We concentrate on fixed services, the applications as a service (or Service as a Service) segment and we also tackle security areas, through solutions like video surveillance. We will continue to expand our M2M portfolio with new global and local solutions, in order to maintain our M2M leadership on the Romanian market.
Vodafone has been ranked as the strongest communication service provider (CSP) in Analysys Mason's 2015 M2M scorecard for a record fourth time. Additionally, it was awarded the Overall Excellence award which recognizes us as the Best Worldwide M2M CSP.
What is the adoption rate of 4G services among Vodafone's business customers?
4G remains Vodafone Romania's focus for 2015, with more and more business customers embracing it for the Supernet benefits in terms of experience, speed and security. 4G data traffic for business customers grew spectacularly, and the number of 4G handsets used by our business customers more than doubled.
Can you give any recent examples of enterprise clients who have taken up Vodafone's business offer?
We are continuously growing our number of clients and, among the latest additions, we can mention Spring Prod Com SRL, the company that runs the Phoenicia chain of hotels.
Has Vodafone been involved in any project for the implementation of NFC in Romania so far?
In terms of e-payment solutions, Vodafone globally delivers mobile wallet solutions and, in Romania, M-Pesa is a strongly growing service that allows all its users to send and receive money, as well as pay for products and services.
What is the operator's share of the SME segment in fixed and mobile services?
Vodafone has a strong presence in the SME segment, leading the market. In the last couple of years, our customer base has become more and more convergent, since we introduced Vodafone Office Complet, a complete bundle of fixed and mobile services. We have tens of thousands of VOC business customers. During the last two years, Vodafone has doubled its fixed services share on the SME segment, through the Vodafone Office Complet package.
What are your estimates for the adoption rate of the Vodafone Backup + service?
Vodafone Backup + is mainly a consumer/residential service. In business, though, we have developed a strong partnership with Microsoft and we have in our portfolio Office 365 services, which include storage services (One Drive), e-mail, Office online and unified communication options. Office 365 is more suitable for business customers, as it provides 1 TB of data storage.
What about the Vodafone Smart Archive service? What are your estimates for the adoption rate?
This is a recently launched innovative digital solution for archiving business documents. It is a solution designed mainly for businesses which aims to simplify the process of storing, searching and using different types of documents, through a professional and very secure service. Lawyers, notaries, accountants, administrators, assistants, doctors, and even more user categories will find Vodafone Smart Archive an efficient tool and a gateway to digitalize their businesses. We expect to transform the way business is done and Smart Archive is one of the many solutions dedicated to this objective.
How many smartphones does Vodafone sell monthly?
Vodafone business customers are used to acquiring both devices and services from us, so the majority of smartphones are sold with a subscription. We see that Romanian companies are more and more interested in giving smartphones to all their employees, as they understand the benefits in loyalty and business efficiency. In the last year, smartphone sales have increased by more than 25 percent.
Vodafone has tested TWDM-PON technology with Alcatel-Lucent in Europe.
Will this technology reach Romania as well?
Our 4G network currently covers 100 percent of the population in Bucharest and all 41 county capitals, as well as the major mountain and seaside resorts. The 4G network is currently being rolled out in Romania's 100 most populous towns and cities.
Markus Lause bio
– He has worked as director of the enterprise business unit at Vodafone Romania since April 1, 2013;
– Previously, he worked at Vodafone Germany, where he was enterprise sales director for a year and a half;
– Before that, he had led the enterprise marketing division for four years;
– Lause has been working with Vodafone Germany since 2001, starting with various roles in the business and consumer product management
– From 1996-2001, he was founder and managing director of the Webactiv internet agency;
– Lause is co-author of the book The Intelligence of Networks (Leben im Schwarm);
– He holds a degree in Business Administration from the University of Koln and a master's degree from Henley Management College
Staff