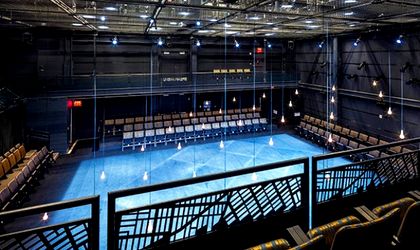 Michael Hersch's new opera reflects on a friend's death, writes journalist Vivien Schweitzer for New York Times, after the premiere of "On the Threshold of Winter" that took place on June 25 at Brooklyn Academy of Music (in picture).
The final catalyst for composing the opera came in 2011, when Michael Hersch read a diary that the Romanian poet Marin Sorescu wrote in 1996, soon before dying of liver cancer, entitled Puntea / The Bridge. Certain passages — including "Someone severs my ways with a pair of shears,/Jeeringly patches them/And throws them to the dogs" — resonated with Mr. Hersch, who based his libretto on Mr. Sorescu's texts, notes the New York Times reporter.
The soprano invited for this premiere was Ah Young Hong, who was accompanied by eight instruments ensemble: Miranda Cuckson, violin, Julia Bruskin, cello, Tara O'Connor, flute, Arthur Sato, oboe, Vasko Dukovski, clarinet, Matei Varga, piano and Matthew Gold, percussion, under the wand of the conductor Tito Munoz.
Marin Sorescu's book was translated by Adam J Sorkin and Lidia Vianu, representing the artist's farewell to life: a book of wryly quizzical poems composed from his sickbed over five weeks as he waited for death to take him, his testament not just to human mortality and pain but to resistance and creative transformation.
According to the book's description, Marin Sorescu was a cheerfully melancholic comic genius, and one of the most original voices in Romanian literature. His mischievous poetry and satirical plays earned him great popularity during the Communist era. While his witty, ironic parables were not directly critical of the régime, Romanians used to a culture of double-speak could read other meanings in his playful mockery of the human condition. But later – like a hapless character from one of his absurdist dramas – the peasant-born people's poet was made Minister of Culture.
"The opera, directed by Roger Brunyate, is typical of Mr. Hersch's aesthetic. Volatile, harmonically piquant and densely scored outbursts are interspersed with passages of solitary, haunting beauty, often permeated with a Renaissance-flavored melancholy. In a recording of excerpts from the score, the pure, vibratoless sound of the soprano Ah Young Hong (who will sing it at the Brooklyn Academy) hovers over a gentle piano accompaniment before turbulence ensues", added the journalist.
The entire review can be seen here.
Oana Vasiliu