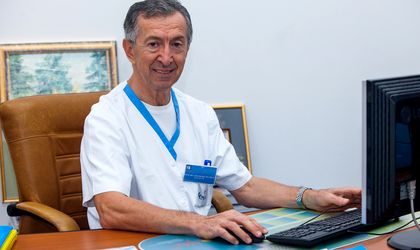 Romania still needs a strong public healthcare system on the long term and hospital managers acquainted with the inner workings of the medical system, says Gheorghe Peltecu, professor, MD and manager of the Filantropia Hospital, a center of excellence for obstetrics and gynecology.
By Ovidiu Posirca
How much has been invested in the Filantropia Hospital to date?
In 2009, when we opened the clinic, the total investments amounted to EUR 3 million. Since then, the figure has risen to EUR 7.2 million. This was state funding alone. We also had investments through sponsorships. For instance, HP donated EUR 40,000 for equipment when we created the hospital's IT infrastructure.
For six years we operated in one half of the hospital, while we built the other one. After another move we improvised for two years without closing any ward. I operated, I assisted in births – during that period we had 2,200 births on 20 beds, which is inconceivable nowadays.
What are your future plans for the hospital?
I am interested in bringing more medical equipment and forming the next generation of people (e.n. specialists). I have eight people under 36, and no clinic in Bucharest has employed eight people of that age in positions of full responsibility.
Does Romania need to focus more on public healthcare or help develop the private market?
Both. The public system is fundamental in Romania and will remain so because not everyone can afford private treatment. But private clinics will have their limitations in time. They will not be able to face all the challenges on the short term. They will treat a certain share of the people, those especially interested in the hotel aspect (e.n. good accommodation) and in the quality of extra-medical services. When confronted with difficult situations, at present the private system is backed by the public one and it needs to stay this way.
The private system still needs to develop so as to offer choices to everyone. But in Romania, now and for the near future, the public system, in certain elite hospitals, is the still most effective. The fact that it does not offer hotel-like standards can raise some issues, but Filantropia was able to equally combine both top-tier professional staff and adequate conditions. This is the ideal.
How did you come up with the initiative of sending young doctors abroad for specialization and hiring them upon their return to Filantropia? Isn't this a risky move?
I was the experiment; I lived this. I left the country in 1992 thinking I would never return home. I went anywhere it could have been better for me. I saw there were a lot of good things, but at some point it is more important to be a creator than a piece in a puzzle. I worked in Switzerland, the US and South Africa, but you eventually reach a ceiling that does not allow you to really be a creator because you are the late entrant in a (e.n. already designed) system. In all areas, I was in the elite structures. I did not work in a hospital to make a living. I was in universitary centers. In Lausanne I worked in a university hospital, and in South Africa I was given an academic position.
But something did not fit and so I decided to return, and once I got into teaching here, I realized that if you want to change something you have to be a leader, so I took up management (e.n courses). I did not have a taste for it, because I am not a manager by talent but out of necessity. However, when I started doing it, I did it well, because I learned and applied management principles. You need to have manager papers. People say you should be a manager and not a doctor and I told them, including the health minister, that there is a transition period that they have not taken into account. The stage of pure-blooded managers will emerge over several years. Managers hastily trained with careers as accountants or legal experts, or even pure managers do not have any connection with medicine. They manage the funding, and when it runs out they call for the hospital to be closed. An MD in my position, when the money runs out, calls the supplier, gives his/her own word and promises to give them the money when it is allotted and it comes.
A pure manager cannot do this, because he or she cannot give anything in exchange. In addition, such a manager does not understand medical activity, and doesn't know how to steer operations. It is just numbers to them.
How many MDs are currently working at Filantropia?
There are around 36 MDs, out of whom eight are aged under 36 and were brought on board by me in recent years. I encourage those returning from abroad to work in their free time at different private practices so as to earn a decent living, while discouraging informal payments.
Do you think your specialization model can be replicated by other hospitals grappling with a brain drain?
The model is free. I was the product of this mode of thinking. I had the chance to go into clinics where I learned that if you want to ensure continuity, you have to share it with someone.
The most striking example was at a clinic in the US, where I spent six months. There I learnt mentorship. This philosophy is probably ahead of today's Romania. For me it is a pleasure.
Have you made any suggestions to the authorities on staff retention programs?
I have always said and proved to everyone that the selection system has to be independent of any political or nepotistic pressure. It is the only way to create quality and the Ministry of Health or administrative structures can contribute by giving a free hand to the person implementing this policy.
How is your hospital doing in terms of budgetary resources?
This year it has been an austerity budget which has not permitted us to make investments. We will get through it relatively easily, because we manage everything going on in the hospital. This means protocols and standardized operations. Savings are a fundamental criterion and we have made provisions for the end of this year and maybe the first two months of next year. At the Filantropia hospital, patients don't have to buy anything.