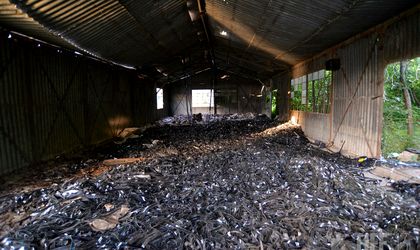 Paradoxically, the decline of Romanian cinemas, from 630 in 1989 to 76 in 2013, has come at a time of growing worldwide recognition for the achievements of local filmmakers. One of them, director Tudor Giurgiu, has started a campaign to save the silver screens, an attempt to revitalize a once-loved local pastime: going to the cinema.
Oana Vasiliu
Award-winning director and the Transylvania International Film Festival (TIFF) organizer Tudor Giurgiu wanted to make a documentary about the state of Romanian cinemas, but after hearing some of the great stories of cinema employees, he expanded his scope. The next step, in 2012, was to launch an online platform, www.salvatimareleecran.ro, a database where details of all the country's cinema theatres could be introduced, with stories and pictures from then and now, to give a complete map of the situation past and present. The website worked well as a showcase, Giurgiu told BR. So he and his team decided to launch a campaign to save the big screen, first outlining their intentions at the Gopo Awards in March and now making concrete steps at TIFF. The Save the Big Screen campaign aims to prevent the further closure of state-owned movie theaters and rebuild a network of cinemas to help revive the distribution of domestic films. The campaigners want to raise awareness and put pressure on the government to ensure that at least a dozen cinemas are restored and digitalized within the next two years.
Statistics: Past & Present
1989 appears to be the golden year in terms of picture houses, when almost every town in Romania had one, and a total of 156 million tickets were sold. Nowadays, Romania has the fewest cinemas per capita in Europe, and only 9 million tickets sold in 2013.
Statistics presented by Giurgiu at TIFF show that currently just 25 movie theaters out of 30 are still active in the state-owned Romania Film network, including just six modernized halls with digital equipment. Last year, 450 movies were screened in Romania, out of which198 were premieres. In terms of admissions, ranked by the origin of first-release feature films, 250,000 people watched Romanian made films in 2013, only 100,000 movie goers selected European productions, whereas almost 8 million people viewed American movies.
With only 76 cinemas across Romania, figure that includes both state-owned cinema houses and multiplexes, the situation is dire, bemoans Giurgiu. "Unfortunately, the Ministry of Culture does not talk about the subject because responsibility belongs to another entity, the National Center for Cinematography. This body should have drawn up a national strategy for movie theaters by now, but they avoid the discussion, arguing that the halls aren't under their jurisdiction, and somehow the debate moves onto Romania Film, a company that has 30 theaters under its control but no money and also DNA problems," Giurgiu told Business Review. Under these conditions, he concluded someone had to take the initiative and come up with a solution.
Ideas emerged at the debate that Giurgiu initiated at TIFF, with the help of some foreign guests who had managed to revitalize the silver screens in their countries. In conclusion, Giurgiu told BR that he sees three major solutions: movie theaters grouped into geographical regions to attract European funding, national funding if the cinematography law is changed in order to secure money from the National Center for Cinematography, and a partnership based on collaboration and communication between local authorities, film distributors and movie theater managers.
The actual investment will not be steep, if the public authorities offer to help with renovations. A digital server, a screen, sound installations and a projector cost from EUR 50,000, depending on various factors, says Giurgiu.
Eastern European approaches to saving the big screen
Speaking at TIFF, Marta Materska-Samek, board president of the Poland Cinema Development Foundation, described some solutions that Poland had implemented, such as premieres and high-quality exhibitions, 3D projections, famous cultural content (La Scala, Opera de Paris, METropolitan Opera, Bolshoi Theater, NTL Live) live in HD, a media literacy program, social activity center and easy access for elderly viewers and those from rural areas, as well as financial support from the Ministry of European Funds. "In small towns, the responsibility for having a cinema lies with the city hall, because the local authorities must provide cultural services as a citizens' right. We managed to refurbish the cinemas and fully equip them with modern technology with European funding, a convergence solution to eliminate the discrepancy between Poland's rich and poor regions, a similar situation to what you have here in Romania," added Materska-Samek.
Ivo Andrle, founder and manager of Aerofilms from the Czech Republic, explained the model that he implemented for movie theaters, which now offer content for all types of consumers, from babies to senior citizens. Moreover, the country is very marketing savvy, offering the public "a blind date with the cinema," where viewers do not know what movie will be shown; the "adopt your seat" scheme, allowing viewers to pay in advance for a permanent seat in the cinema; cinema cuisine, or a food and beverages menu, and senior screenings for pensioners.
Tina Hajon of the Audio-visual Center of Croatia said that her country had only two private distribution companies, with 100 digital screens in cities with over 250,000 inhabitants. The other 46 cinemas were independent, with only one screen, none of them digitalized, so the center implemented a national program with the support of the Ministry of Culture. Thanks to this project, 153 screens have been revitalized, out of which 137 were digitalized, and in return, audiences were up fourfold on the previous year, with a 50 percent rise in the number of projected movies.
Supporters of the "Save the Big Screen" campaign
American actress Debra Winger, who was presented with a lifetime achievement award at TIFF, said she decided to adorn it with a Save the Big Screen Campaign sticker, partly through habit, as she admitted to being superstitious, and partly because she supports Giurgiu's campaign, having visited the abandoned state film depot in Cluj and been at the screening of some sections of Cinema, mon amour.
Asked by BR about Giurgiu's initiative, Mihai Chirilov, artistic director of TIFF, said that to launch a campaign such as Save the Big Screen, we should first ask what culture means today and who is still consuming cultural products. He pointed out that the cinema used to attract big audiences but, somehow, they stopped going. An important question to ask these people is why they moved away from the movie theater. He concluded by saying, "Movies were made for the big screen, and this is an absolute truth, which is why this campaign must be supported."
Emil Boc, mayor of Cluj-Napoca, declared himself a supporter of Giurgiu's campaign, pointing to the revamping of an old cinema in Cluj-Napoca which is now functional courtesy of the local community, who decided to restore the location to how it used to be.
Moreover, Giurgiu told BR that since the official campaign launch several city mayors had contacted him in order to find together a solution to save their cities' silver screens.
Gherla city has its cinema life-buoy
The municipality of Gherla modernized the town's movie theater at a cost of EUR 170,000, long before this campaign, but still they had issues in making it work, so the mayor, Marius Calin Sabo, asked Giurgiu for help. "He contacted me because he didn't know from where to get the movies," said Giurgiu at TIFF Talks. The Gherla cinema will open in July 2014 with 220 seats and a 3D audio-video system, managed by the city hall and widely open for cultural purposes. "It is also very important to be the mediators between all these entities, and to try to convince the Ministry of Culture to get involved," concluded Giurgiu.
The movie chapter
Cinema, mon amour is the documentary through which Giurgiu, along with director Alexandru Belc, editor Ioachim Stroe and researcher Ilinca Micu, presents a tale of loneliness, friendship, hope and unfulfilled dreams, the story behind every movie theater.
The premise may be summarized thus. Once the pride of a nation, an effective propaganda machine and a means of educating the masses during the communist regime, Romania's movie theaters now lie abandoned and forgotten by the public. Of the more than 400 theaters in existence in the early '90s, fewer than 30 are still functional, making Romania the country with the fewest screens per number of inhabitants in Europe.
The handful of theaters that have survived are not thriving; a passerby may not even realize they are still functional, that someone replaces the posters now and then, that inside there still are people at work, for whom these theaters mean everything. They are the people in the projection room, technicians, managers and usherettes, a world in a dolce far niente state, waiting resignedly for the day when the doors are locked for good. It is a phantom-like world of people who lived through the glory days of these cinemas, and who are now left living off the memory of when spectators would crowd the theaters for Piedone's fist-fights, a Spider-Man trick or a tear shed for a Bollywood romance.