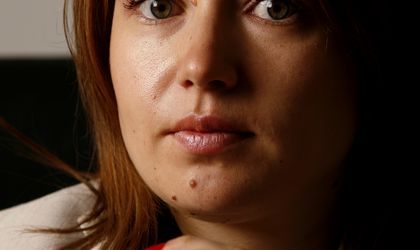 Adelina Pasat, commercial director at Nutrivita, tells Business Review about the challenges of being a pioneer on a niche market, her advice for negotiating with power players and the importance of the quality of her products to her consumers.
Anda Sebesi
How did you enter the Romanian business scene and when?
In 2006 after I gave birth to my first child and gained weight post-pregnancy, I discovered through a nutritionist a new category of products that were not then available on the Romanian market: substitutes for weight control. They had been present in Western supermarkets since the 1990s.
As a marketing professional, I immediately saw the opportunity, as some categories of consumers had started to show interest in nutritional food. The Gerlinea products, part of the French company Nutrition et Sante, seemed to me to be the most addressable products from the marketing perspective (product, packaging, positioning on the market, price).
Based on over ten years of professional experience at companies from different industries (communications, telecommunications, FMCG, retail) and with solid knowledge of French, I went to the company's export division. There were several months of explorations until the export manager of Nutrition et Sante, Jean Marc Sagnes, agreed to meet me in Paris.
I went with a solid business plan and after a 45-minute meeting they agreed to make me the company's representative for Romania. After that we had to put the business plan into practice. The figures became reality but much later than we expected. We were a little bit ahead of the time as our work in the early years was to educate first retailers and then consumers.
Why did you decide to launch such a business in Romania?
The Gerlinea products helped me very much and I thought that there were other people fighting extra weight that I could help. Later, when I discovered the portfolio of Nutrition et Sante, the largest manufacturer of organic and health food products in Europe, I wanted to offer my family and Romanian consumers the chance to consume delicious food created using specialist recipes to help them to maintain or regain their health.
At present, our portfolio consists of products for different nutritional needs and profiles (weight management, food intolerance, diabetics, athletes and low sugar, salt or fat) and certified organic products.
What was the most difficult moment for your business and how did you manage to surmount it?
There were many difficult moments, especially with the distribution channels where initially many purchasing managers didn't know our category of products and didn't understand their benefits versus their price.
We launched our business in 2007 when the first signs of the economic crisis started to appear and retailers were reluctant to list niche products on their shelves. Dozens of meetings and hundreds of emails were sent to all large retail chains.
Fortunately I also met very open partners for discussions who liked our products and gave us a chance to be on their shelves. Later, consumers confirmed the quality of our products.
If you started another business, what would you change?
I would pay more attention to the contracts negotiations with distribution partners. In the first few years, because we wanted to access as many distribution channels as possible rapidly we felt keenly the pressure and negotiating power of large retail chains.
What are the main challenges that you face in your business now and how do you manage to solve them?
Over 2007-2009 when few had the courage to invest in food micro niches, we were among the first who invested in the communication of the new categories to consumers. Now, when all large food retail chains and smaller, local shops have nutritional and organic products on their shelves, we're trying to maintain our leading position on the segments on which we are active, even though a large number of rival products have appeared on the market, some of poor quality and some proper brands.
Our advantage is that consumers have trusted us for over eight years now; we have products with a tradition on the market and invest constantly in innovation and communication. We regenerate each assortment twice a year minimum and periodically run information campaigns and reward loyal consumers.
How fierce is the competition in your field of activity and what do you think differentiates you from the crowd?
Over recent years more and more products have come on the nutritional and organic market. Many disappear in six to nine months because this segment has several characteristics that you get to know in time. The financial risks are also higher because the products are free of preservatives so they should be used in a shorter time. An order that is not well planned can lead to large stocks of products with imminent expiry dates and that generates big losses.
Our knowhow, a good knowledge of our consumers and constant investments in logistics, distribution and marketing are what differentiate us from the crowd. Last but not least, it is about a portfolio of high quality nutritional products. Once you have tasted them, they convince you to consume them!
What is your current market share in Romania?
We are active on more food micro niches where we have an average market share of up to 23 percent, according to data provided by Retail Zoom. But these segments are less developed than in developed countries so the monitoring is carried out within larger categories. Even so, we have a very good position in relation to market leaders from much larger categories like energy bars for athletes for example.
What are your plans?
This year we intend to extend the current range of products by 19 percent, add a new supplier to our portfolio and increase our turnover by 25 percent minimum.
Box: Nutrivita
Established: 2007
2014 turnover: over EUR 1.7 million
2015 estimated turnover: EUR 2 million
Number of employees: 16