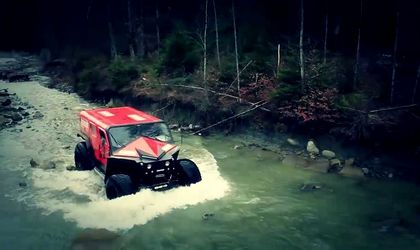 Romanian manufacture GHE-O Motors has officially launched the first off-road vehicle devoted to saving lives on the first day of Bucharest Auto Show & Accessories 2013 at Romaero Baneasa.
The new special vehicle, named Rescue, was designed and built by Romanian specialists, with the purpose of creating a vehicle capable of reaching in the toughest conditions and inaccessible places.
GHE-O Motors present the special vehicle as the ideal solution for transport, medical support, fire extinguishing, as it can intervene in various urgent situations which had no solutions.
From the technical point of view, Rescue is a car with unibody, 11 seats, dimensions of 5,200/2,700/2,390 and 3.2 tonnes.
The eleventh edition of Bucharest Auto Show & Accessories 2013 (SAB & Accesorii 2013) takes place   in the period October 10-20, 2013, at Romaero Baneasa.
Oana Vasiliu