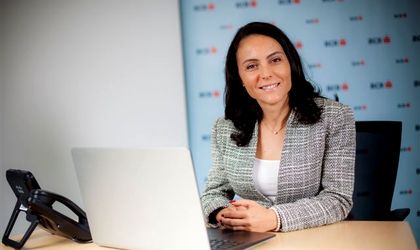 Madalina Cazacu was appointed to occupy the position of customer experience director within the BCR Group, the company announced.
"My goals are aimed at implementing a concrete strategy and tools to align and integrate in the business strategy of the bank our customers' experiences and voice, signals received from the authorities and consumer protection associations. We are ready to face any challenge and understand that it is time for a real reconciliation. The economic, legal, banking medium has changed and we have a moral obligation to increase awareness among the population about financial responsibility. The way we as individuals choose to spend or to invest money is essential to maintain a stable economic environment and ensure the future of generations that will follow us. We must learn from past mistakes, we as financial institutions and customers, as consumers of financial services," said Madalina Cazacu.
Cazacu has been working in BCR since 2009 and to date has served as supervisor and head of department, being in charge with resolving customer complaints. Madalina Cazacu has over 18 years' experience in customer relations, responsible over time for customer counselling and resolving complaints both in the banking and telecommunications sectors. She also was among the first specialists to have developed and implemented the concept of "customers first".
The Romanian Commercial Bank (BCR), a member of Erste Group, is a financial group in Romania, offering a complete range of financial products and services through a network of 22 business centres and 23 mobile offices for companies and 509 retail units located in major cities across the country with over 10,000 inhabitants. The bank has assets amounting to EUR 14.4 billion and a comprehensive network of about 2,000 ATMs and 13,500 POS points.
Erste Group employs 46,500, serving 16.2 million clients in 2,800 branches in 7 countries (Austria, Czech Republic, Slovakia, Romania, Hungary, Croatia, Serbia). At the end of the first quarter of 2015 Erste Group had total assets worth EUR 202.6 billion and recorded a cost / income ratio of 56.1 percent. Index common equity Tier 1 (Basel 3 fully implemented) stood at 10.2 percent.
Natalia Martian