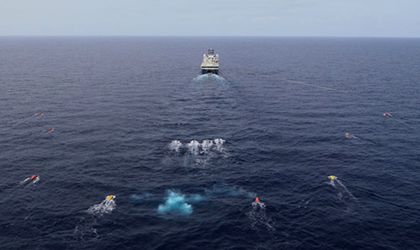 Russian oil company Lukoil will drill two wells offshore Romania in the Black Sea by the end of this year, according to company president Vagit Alekperov cited by Sputniknews.com.
Works on the first well started last November, according to Mediafax newswire. The company plans to invest between USD 200 million and EUR 300 million in drilling the two offshore wells, according to the same source.
Overall, Lukoil is ready to drill five wells offshore Romania in the Black Sea this year, three of which are mandatory and two are optional. In February 2011, a consortium between Lukoil Overseas (part of Lukoil) and Vanco International signed a concession agreement with the National Agency for Mineral Resources of Romania (ANRM) for the exploration and development of two blocks in the Romanian sector of the Black Sea — Est Rapsodia and Trident. They each cover 1,000 square km.
"We hope that this year we will finish drilling two wells at the southern Trident block. Now the depth is 1.7 thousand meters, while the project depth is 3.4 thousand meters, " said Alekperov according to Sputniknews.com.
Russia's second largest oil company has been increasing its exploration and production costs in Romania from USD 9 million in 2013 to USD 189 million last year as it has begun exploration activities in the Black Sea, according to Mediafax.
Simona Bazavan