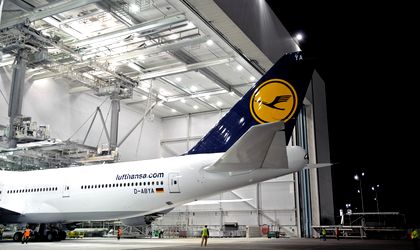 Six flights were cancelled on Tuesday on Otopeni Airport as a result of the Lufthansa pilot strike, according to economica.net.
The Lufthansa strike has been expanded to include a one-day walkout Tuesday involving the German carrier's long-haul fleet as pilots raise the pressure on management.
Four outbound flights (from Bucharest to Frankfurt and to Munich) and two inbound (to Otopeni from German airports) were cancelled on Tuesday morning.
Lufthansa offers passengers the possibility of being reimbursed for their airplane tickets or rerouting their flights.
The Romanian Foreign Ministry warns Romanian citizens that are currently in Germany or planning a trip there that the German Pilot Association will hold a strike from Monday, 1 pm, to Tuesday, midnight.
The strike will affect Lufthansa airlines, but not Austrian Airlines, Brussels Airlines, Germanwings, Swiss and Air Doolomites which will be able to perform according to their own flight schedules.
The strike is estimated to impact 200,000 travelers, according to Daily Mail.