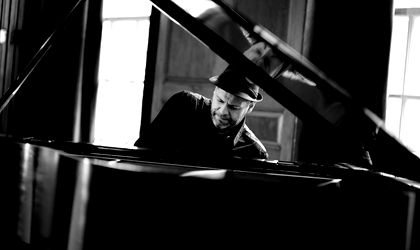 Jazz pianist Lucian Ban talks to Anca Ionita about this week's concert at Bucharest's Odeon Theatre with the viola player, Mat Maneri. The concert is part of a tour to mark the CD release of the ECM Records album Transylvanian Concert. The two will have as special guest the famous avant-garde British saxophonist Evan Parker.
How did you and Mat Maneri start to work together? The combination of piano and viola is not a very common one.
When I did the Enescu Re-imagined project, which involved a large ensemble and a lot of re-orchestration, most of the musicians involved in the project, being internationally famous, had very busy schedules, so the time for rehearsals was very short. Once we wrote the music, we wanted to allow these musicians to bring their voices to the project. This can happen only during performances. We decided that the piano and the viola would do an improvised introduction for the solo of each of the musicians in the ensemble. And the music came out so good that we decided to play more together.
How did ECM Records decide to produce the Transylvanian Concert album?
Besides the Enescu project, Mat and I did two projects related to film: Tarkovsky Redux and Andy Warhol Screen Tests. Both of them were performed at TIFF (the Transylvanian International Film Festival), in Cluj. The promoter of the concert added to one of these performances a concert in Targu Mures, at the beautiful Opera House. We played modern pieces composed by both Mat and myself, a cross between European 20th-century music and jazz. It was an unusual combination, piano and viola. Mat Maneri is known as an avant-garde player. The audience greatly enjoyed the concert, which was more like a chamber duet, not mainstream jazz. There was a good piano, great acoustics and I remember both Mat and I had a very good feeling about the concert. Little did we know that the promoter had asked someone from the local radio station to record it. When we listened to it, we both agreed it was a very high quality recording. And we decided to release this recording as an album, so we sent it to different labels.
When ECM (Edition of Contemporary Music) Records said it was interested in releasing our album, it was kind of a surprise, because ECM releases only albums it produces, either live or studio recordings. Manfred Eicher, the founder and boss of the ECM, is a purist and the label is known for an almost draconian approach to recording. Manfred Eicher worked for Deutsche Grammophon in the 1960s, and he built ECM starting from these recording techniques, such as the one used to capture Keith Jarrett's piano. Jarrett has exclusively recorded with ECM almost from the very beginning of his career.
During a meeting with label representatives in 2011, in Munich, we found out how they decided to produce us. A label like ECM receives around 2000 tapes a week, and they never get to listen to all of them. They only produce artists they already know or artists that are recommended by their current artists. But someone working there liked our recording and started to play it in the office. Manfred Eicher listened to it and said there was something fresh in it, and that he would like to have the original recording, not a studio one. It was an unusual approach for ECM as it doesn't release live concerts it doesn't plan in advance. So I think this proves the music was very good if the label decided to break its own rules.
They suggested we change the title of the album and name it simply Transylvanian Concerts. I liked it a lot, because it puts Romania on the international jazz map. You suddenly get the pedigree of one of the high-end labels in the world. ECM defined the sound of the second half of the 20th century, not only jazz.
This week's concert is part of an international CD release tour for the album.
The tour starts on May 11 in Cologne and will include 20 concerts and six countries, including Romania, with a concert in Bucharest on May 14 and in Ploiesti, at the jazz festival, on May 16. I am particularly excited about the concert in Bucharest because I asked Nigel Townson, the head of the British Council in Bucharest, if it would be interested in bringing a famous British saxophonist, Evan Parker, to this concert and he said yes.
Why did you think of Evan Parker?
Because he has been a leading figure in European jazz avant-garde since 1960s. He pioneered techniques that are used in contemporary classical music, like circular breathing, for example. Evan Parker is actually in Romania for the second time. He came in the 1980s, when he was on tour with a famous German pianist, Alexander for Schlippenbach, and a dancer, sponsored by Goethe Institute. They played in Timisoara, Sibiu and Cluj, and I was at the concert in Cluj.
Mat Maneri & Lucian Ban CD release concert for the ECM album, Transylvanian Concert, Odeon Theatre, May 14, 19:00
anca.ionita@business-review.ro