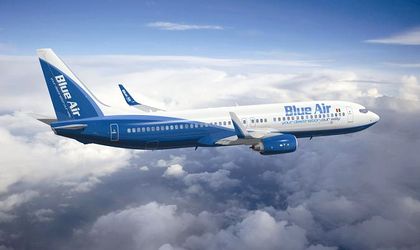 Airline Management Solutions, a company set up last month and owned by four Romanians, has acquired local low-cost carrier Blue Air for EUR 30 million, out of which EUR 28 million represents the takeover of obligations.
The transaction covers the airline's non-physical assets such as brand, logo, know-how, website and reservations platform. The new owners' plans for the airline this year include consolidating the business to 2012 levels and adding new aircraft to the company's fleet.
"The Blue Air fleet will continue to be modernized and the number of aircraft will be increased in the near future. This is a business plan we have assumed as part of the bid," said Gheorghe Racaru, the company's general director.
Over the next couple of year the new management wants to grow the business by between 3 and 5 percent.
The four owners of Airline Management Solutions are Teodor Cristian Rada, Marius Mihail Puiu, Tudor-Zamfir Constantinescu and Luciana Paunescu. The latter two are a former Blue Air pilot and the owner of Blue Air Travel, respectively.
Blue Air is owned by insolvent Romstrade and was put up for sale this month, following a decision by the airline's new board of directors. Initially, six investors showed interest in the carrier but only two submitted offers – Airline Management Solutions and the owner of Medallion Air, Victor Dumitrescu.
The takeover has to be approved by the airline's creditors and shareholders.
Romstrade is owned by local businessman Nelu Iordache. He is currently in custody, having been charged with embezzling RON 25 million (approximately EUR 5.6 million) from funds allocated to the construction of the Nadlac-Arad highway.
Low-cost airline Blue Air reported a turnover of RON 575.5 million (about EUR 136 million), in 2011, a loss of RON 48.5 million (around EUR 11.4 million) and debts of RON 393.8 million (some EUR 93 million), according to data from the Ministry of Finance.
The company flew fewer than 1.5 million passengers in 2011, down by about 200,000 against 2009.
The decrease came after the airline reduced its flight capacity by 15 percent in 2011, following a restructuring program.
Simona Bazavan