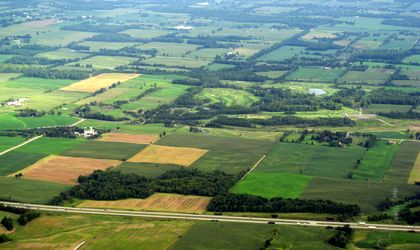 Average farmland prices have almost tripled in Romania since 2007 and the upward trend is showing no sign of slowing, especially in light of next year's market liberalization. Buying Romanian farmland continues to be an attractive business opportunity for both locals and foreigners despite recent price hikes, but issues such as land fragmentation are slowing down investors.
By  Simona Bazavan
Agriculture is on the lips of everyone these days in Romania, be it businesspeople, entrepreneurs, investors, analysts, politicians, and of course, the farmers themselves. In the context of a struggling economy, farming is constantly mentioned as a source of growth, and with soaring food prices worldwide, farmland acquisition is proving to be a very lucrative business option.
Fueled by increasing demand, prices have taken off in Romania. While back in 2007 the average price of a hectare of farmland was EUR 927, it had skyrocketed to EUR 1,972 by 2011 and this year has gone well beyond EUR 2,000 per hectare. Prices will remain on an upward trend and are forecast to reach an average of EUR 3,000 per hectare by 2015, according to a 2012 DTZ Echinox report.
"The economic crisis has not significantly affected transactions in this sector and although prices have kept increasing – compared with 2008, prices per hectare have doubled – Romania continues to be attractive to investors, mainly because of prices, which are seven or even eight times lower than the rest of Europe," Flavius Pop, consultant with the investments department of DTZ Echinox, told BR.
Low prices combined with the high quality of the soil and large surfaces of available land have so far persuaded numerous local investors as well as many foreign companies and investment funds to buy farmland. Yet there are discrepancies between demand and offer and this has got worse lately.
"Many investors have found that farmland properties which cover thousands of hectares in established regions such as southern and western Romania are increasingly scarce," Pop added.
Romania boasts a large stock of farmland but, ironically enough, this selling point also provides the main stumbling block for the farmland market. The 2010-2011 national agriculture census revealed that there are about 8.2 million hectares of arable land in Romania, placing it in fifth position in the EU, after France, Spain, Poland and Germany. However, about 25 percent of this is estimated to be divided into plots of under one hectare, making it difficult for buyers to consolidate larger plots. Most of them are looking to buy compact plots larger than 1,000 hectares, yet this might require as many as 900 individual transactions. The lack of cadastral documentation, the high costs of obtaining it and bureaucracy are the main challenges potential buyers have to deal with. And close to nothing has been done over the past few years by the authorities to address this issue.
"Buyers are interested in large surfaces located in a single region with as high a consolidation level as possible, with access to the water supply and irrigation infrastructure, even if this not functional in the beginning but can be later reconditioned (…)," stressed Pop.
All the procedures required to close a transaction involving large plots of farmland are hiking prices and often "complicate the process of negotiating and closing the deal because of the numerous interests involved," Ana-Maria Goga, partner and coordinator of the real estate department of Pachiu & Associates, told BR.
Essentially, land fragmentation, lack of cadastral documentation and legal uncertainty about the status of a large share of the existing farmland leads to delays, if not blockages, and additional costs incurred through intermediaries and legal clarifications, which in most cases have to be paid by the buyer, she explained.
But even despite such setbacks, prices continue to rise and "today we can speak of growth rates of between 10 and 12 percent," according to Pop.
However, prices can vary greatly depending on the region. In the north-east and south-east of Romania, average sale prices are between EUR 2,000 and EUR 2,150 per hectare, while in areas near the capital, average prices reach EUR 2,700 per hectare, show DTZ Echinox data.
There are even bigger differences between farmland prices in Romania and the situation in the rest of Europe. In England a hectare can be traded at EUR 24,000, while in Denmark prices reach EUR 33,000 per hectare. Going east, a hectare costs as little as EUR 700 in Ukraine.
The upward trend will be maintained over the coming years, "and prices will most likely stabilize the moment Romanian agriculture reaches a degree of maturity characterized by the productive exploitation of a significant number of compact plots with a clarified legal and cadastral status by entities able to provide the necessary infrastructure to cultivate the land in a continuous and sustained manner," said Goga. This would also help limit speculation and the intervention of intermediaries in farmland transactions.
Fears of market liberalization
From January 1, 2014, non-resident foreign citizens are set to be able to buy Romanian farmland, under Romania's Treaty of Accession to the EU, and the chances of stopping this from happening are very slim.
The topic has often been debated over the past couple of years and continues to be so, with politicians and especially local farmers arguing that Romania must find ways to restrict the purchase of local farmland by non-resident foreign citizens beyond the 2014 deadline. Their argument is that land prices continue to be much cheaper in Romania than throughout the rest of the EU and local farmers will be facing unfair competition from international players who have far greater financial power. Come 2014, there will be massive farmland acquisitions made by foreigners, farmers complain.
Most recently, President Traian Basescu suggested that farmland acquisitions by foreigners risk endangering Romania's agricultural production and advised owners not to sell their plots. "If we like to believe that we don't sell our country, then I would like to see Romanians not selling their land. This is the first condition to prevent the land from being sold," he said during the annual meeting of the Romanian Agricultural Producers' League (LAPAR), two weeks ago. Basescu stressed that the matter depends both on farmers and the government, which he said should set up an agency with the right of first buyer when owners want to sell.
Others argue that most of the damage has already been done. Under Law 312/2005 foreign citizens and companies registered outside Romania will not obtain the right to own land in Romania until seven years after Romania's EU accession, which is 2014. However, foreign investors can, and many have, circumvented this legislative restriction by purchasing land through locally registered companies.
Of the country's 14 million hectares of farmland, nearly 1 million hectares has been purchased by companies with foreign ownership over recent years. This means an estimated 7 percent of the country's total farmland, which makes Romania the European country with the largest share of national farmland owned by foreigners.
Given that many foreigners have already bought local farmland via locally established companies, it is unlikely that lifting the ban in 2014 will cause demand to explode, argued Pop. Goga, too, stresses that no significant change can be expected following market liberalization.
Nevertheless, "at present there are several foreign companies from Europe as well as the Middle East which are testing the local market. Some of these companies have been active locally for a long time and they are familiar with local working procedures and will continue to invest in order to expand their portfolio," said the real estate consultant.
Prolonging the period during which Romania can restrict farmland acquisition by foreigners after 2014 could only have been achieved if the accession treaty had been changed, an almost impossible endeavor. Instead, the authorities said they would find solutions to limit transactions made by foreigners such as such as allowing land purchases only up to a specified maximum amount or allowing acquisition only for individuals who can prove they have a background in agriculture.
Agriculture minister Daniel Constantin said last week that Romania must reach a balance between limiting farmland acquisitions by foreigners and encouraging foreign investments in local agriculture. A solution he mentioned could be to stimulate local owners, especially those who own small surfaces, to lease their land rather than sell it. This could be done by increasing the EU subsidy they receive by 20 percent to those who choose to lease for the long run. The measure is included in the proposed reform of the Common Agricultural Policy (2014-2020).
Yet, despite any such initiatives, Romanian farmland is set to cultivate future growth over the coming years – be the buyers locals or foreigners – based on both global trends and local availability, making it a valuable and sought after asset and a safe alternative investment option.