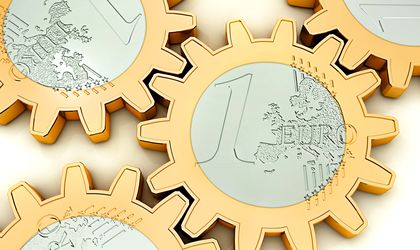 While one third of entrepreneurs in the European Union believe the EU is the friendliest entrepreneurial environment, in Romania just 2.3 percent of entrepreneurs believe the place where they run their business is the most suitable for them, according to the Entrepreneurs Speak survey published by E&Y Romania, quoted in a report by Romanian Business Leaders (RBL). 
By Otilia Haraga
Romania is deficient in sources of financing, says E&Y, with loans for small entrepreneurs representing just 2.3 percent of the GDP, compared to a European average of 5.5 percent, and specialized funds nearly absent.
Furthermore, Romania also lacks the tools to develop entrepreneurial culture and education, claims the RBL.
"We are dealing with a serious problem," Mona Nicolici, head of community relations & social affairs at Petrom, tells BR. She quotes the Romanian Entrepreneurship Barometer which found that 88 percent of Romanian entrepreneurs believe access to financing is "difficult" or "very difficult."
But it is not only about the money, some experts suggest. "The most important limitation for SMEs looking for financing is that, in reality, they need something else. Entrepreneurs are extraordinary people who risk their time and money to create something new; they are dedicated people who work enormously for what they wish to achieve. Very often, this is like digging a tunnel: if you don't lift your head from time to time to see what's outside, all you want is a bigger pickaxe – or, in our case, more money. I am saying with all confidence that more money means, in most cases, a waste or postponing an unavoidable end, so pay close attention when looking for this money," Sergiu Negut, managing partner at Mindit, associate dean at the Maastricht School of Management and angel investor, tells BR.
He recommends consultancy from "the usual expert" – an entrepreneur who has gone through the same thing and can give advice such as that offered during the entrepreneurship projects of the Romanian Business Leaders Summit.
The RBL supports as public policy priorities several initiatives, which include setting up a public-private entity with clear targets, governing rules and KPIs that should roll out programs for SMEs, lifting the red tape that stands in the way of small businesses and startups, and devising some mixed public-private financing frameworks (including seed funding or venture capital platforms) and revolving financing schemes that should replace the current non-reimbursable aid.
It is also working on five projects to promote entrepreneurial education. Apart from workshops, it is holding a series of conferences given by businesspeople for high-school students in the main Romanian cities and publishes a practical guide written by entrepreneurs. Furthermore, it runs two mentoring programs: 101 Companies from Stress to Success, for entrepreneurs with at least three years of experience, and 1,001 Startups for newbies.
Currently, Romania still has around EUR 1 billion in untapped state aid, and local companies must submit projects by early spring to benefit from these financing facilities, said experts during the Access to Finance workshop organized by BR in January 2014.
The government is planning new schemes starting in July, although the allotted funding and criteria are still under consideration.
According to Iulian Sorescu, associated partner and head of the financial department at Noerr Finance & Tax, the schemes should in theory continue to focus on manufacturing and innovative/high value-added services, as the authorities aim to support the creation of new jobs.
The Romanian authorities put in place two state aid schemes worth a combined EUR 1.6 billion back in 2008, which were linked to the level of investment and the number of new jobs created. They focused mainly on manufacturing, although investments in medical and tourism sectors were also accepted.
One of the schemes, regulated by GD 753/2008, applies to investments of over EUR 100 million that create 500 new jobs. This has seen limited success as out of the overall budget of EUR 575 million, a little over EUR 100 million has been accessed by companies.
A second scheme, regulated by GD 1680/2008, applying to investments ranging from EUR 5 million to over EUR 30 million, with different job creation thresholds, has proved to be very popular with close to half of the funding having been taken up.
Under these two facilities, companies can use state aid to cover investments in assets such as productive buildings, machines, equipment and licenses.
A new scheme worth EUR 136 million, regulated by GD 797/2012, was rolled out in 2012, focusing on innovative investments and targeting the IT&C and R&D sectors, and around half of the funds have been allocated. This facility allows companies creating over 200 new jobs to get finance for gross salaries and all related taxes for two consecutive years.
This may come as a breath of fresh air for many SMEs, since innovation is still an issue.
According to a survey by the National Institute of Statistics, innovation in Romanian companies declined over 2010-2012 compared to the previous two years. Furthermore, the number of companies that did not innovate at all grew by more than 10 percent over the same period. Only two out of ten SMEs implemented a new or improved product, process, management or marketing method over 2010-2012.
During the 2014-2020 EU financial period, Romania will receive EUR 22 billion in structural and cohesion funds. These will be divided in the following way: for transport infrastructure EUR 5.7 billion, for the environment EUR 3 billion, for community urban development EUR 2.8 billion, for county roads and ring roads EUR 1.1 billion, to address youth unemployment and joblessness EUR 1 billion, for professional development in education EUR 1 billion, for social assistance projects EUR 1 billion, for SMEs and technological parks EUR 800 million, for research EUR 700 million, for IT EUR 550 million, for healthcare infrastructure EUR 500 million, for the development of local administration EUR 500 million, for the restoration of historical, tourist and cultural sites EUR 450 million, for education infrastructure EUR 350 million, for the cadastre EUR 300 million, for energy efficiency EUR 270 million, and for the programs of the National Agency for Labor Occupancy EUR 250 million.
"State aid and European funds have their upside and downside. They can be very helpful in developing a company if the project is for real. However, most projects are devised just to attract funds, and the economic effect is somewhat secondary. And the process is a very slow one. I know people who have barely received approval for a project submitted three years ago. How relevant can such an old project be? And how long will it take until the funds are actually released?" wonders Negut.
The bank would be another solution of choice for SMEs that wish to obtain financing, he suggests. "In spite of the general impression, banks are quite generous in granting loans, even though it seems that sometimes they do so when the company can do without it. Basically, loans for SMEs are available as soon as the company can cover and guarantee the installments. In fact, there are a few banks, like Banca Transilvania, doing that systematically, and, not surprisingly, they have built a reputation in this field," says Negut. He believes that bank financing is the most robust. "However, accelerating an investment for a dynamic company cannot be done only with money from the bank," he says.
In the case of startups, the three Fs – family, friends and fools – is basically the starting point for everyone. "This is where the money that entrepreneurs have access to ends, and headaches begin. Big headaches, because,
even though the business has been started, it is not bankable in any way," says Negut.
Bogdan Iordache, founder of How to Web, tells BR, "Romania is undoubtedly very poorly represented in financing from business angels and accelerators. Right now, there is no accelerator but only several business angels who are active. Nearly all of them are part of the TechAngels Association that I founded in 2012. There is definitely a need for more financing resources for start-ups, but also an efficient way to use that money, a thing that we have always lacked. On the other hand, right now there are two active investment funds in Romania, 3TS Capital and Early Bird Ventures," he says.
Some 32 start-ups received financing during the How to Web Startup Spotlight pitch, with the best of them awarded USD 20,000.
Another option for an entrepreneur who wants to make his or her idea a reality is to take a nearly untrod path (in Romania) and resort to crowdfunding. "Right now, crowdfunding is not frequently used in Romania, and Kickstarter, the most used crowdfunding platform in the US, cannot yet be used legally from here. Even so, there are a few success stories where people have managed to finance their activity via crowdfunding. An example is FaceRig, a Romanian start-up which carried out a crowdfunding campaign using Indiegogo and managed to raise over USD 300,000, even though its initial target was USD 120,000," says Iordache.
A special case involves businesses with a social impact, which can also apply for financing from Tara lui Andrei, a project backed by Petrom.
"Social entrepreneurship is strongly repositioning itself as a niche sector, which is attracting both NGOs and those within the traditional entrepreneurship zone," says Nicolici.
She quotes the Social Economic Atlas, put together by the Foundation for the Development of Civil Society in Romania, which states that there are over 26,000 organizations active in the social economy – some of which are social businesses – with revenues of EUR 1.5 billion. Out of this sum, 18.5 percent are revenues from economic activities. They employ over 163,000 people, representing 3.3 percent of the total number of employees, compared to the EU average of 6 percent.
Tara lui Andrei has so far organized three competitions that granted total financing of EUR 560,000 for 51 projects in 2013. "Fabricat in Tara lui Andrei is the largest competition for social businesses in Romania, through which Petrom offered total non-reimbursable financing of EUR 350,000. It is meant to develop social businesses in local under-developed communities in Romania," says Nicolici.
Apart from financing, the 20 finalists got access to workshops and individual consultancy. In the first years of activity, they will also benefit from 'business-incubator'-type consultancy.
"We believe entrepreneurship is learnt from a very young age, and to create the leaders of tomorrow, we must invest in the youth. For this reason, ten financing lines of EUR 5,000 each were granted for implementing businesses conceived and coordinated by teams of teachers and students in Scoala lui Andrei," says Nicolici.
A total of 21 financing lines totaling EUR 15,000 were granted to sustainable projects from Tara lui Andrei in three fields: education, community development and the environment.
"A survey we carried out in 2013 with Cult Market Research revealed that over 88 percent of civil society representatives see social entrepreneurship as the main option of NGOs for development and self-sustenance," says Nicolici.
*Some of the organizations consulted in the article were nominees in the Business Review Awards.
otilia.haraga@business-review.ro