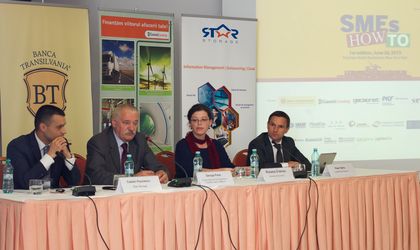 Even though they account for more than 65 percent of the total number of jobs in Romania, pundits say local SMEs are not innovative or competitive enough, lacking both financing and a fitting entrepreneurial culture. Experts present at the SMEs How To event organized by BR gave an overview of the financing opportunities available to SMEs.
At the moment, nearly 23 percent of active Romanian SMEs are located in the Bucharest- Ilfov area. This equates to over 50 SMEs per 1,000 inhabitants, while the south-western region Oltenia has just 16 SMEs per 1,000 inhabitants, according to Peter Barta, executive director at Post Privatization Foundation.
"Entrepreneurial education should become a strategic target but there are few such programs. Most entrepreneurs see participation in such programs as a cost when in fact they should see it as an investment," said Barta.
Startups in Romania find it very hard to take off, because there are not enough financing opportunities.
Access to bank loans is restrictive and alternative sources of financing lacking, said Barta.
"Romania is among the few countries that does not have a fund for early-stage financing. Unfortunately, many entrepreneurs who have obtained early-stage financing did so from investment funds abroad," he said.
Giving the example of Sillicon Valley, Barta said the Sillicon Valley Bank offers financing to startups and works with incubators. "In Romania there are few incubators and many of them are in agony," he said.
Barta added, "One positive thing is the significant growth of micro-lending, because these solutions help the entrepreneurial process." Romania is in fifth place in Europe for the number of beneficiaries of micro-lending and this is growing.
Roxana Craciun, counselor at the Directorate for Implementing Projects and Programs for SMEs, in the Ministry of Economy, made an overview of the seven development programs available to SMEs in Romania, which are financed from the state budget.
These include a program supporting craftsmanship, one stimulating young entrepreneurs to set up and develop small companies, the Mihail Kogalniceanu program for SMEs, a program developing entrepreneurial abilities in young people and facilitating access to Start-type financing, one developing entrepreneurial culture in women managers, and a program for the setting up and developing of technology and business incubators.
The Romanian state runs several programs for non-reimbursable financing. Roxana Mircea, managing partner at REI Finance Advisors gave an overview of the available ones. "We are approaching the end of a government scheme that financed projects worth EUR 5 million. At the end of July, the beginning of August, is the deadline for submitting projects for this scheme," she warned.
She also spoke about the Minimis financing scheme through which SMEs can obtain at most EUR 200,000 of non-reimbursable financing.
About RON 400 million will be allocated in total as part of the program and the session for applications opens on August 16.
"This scheme functions extremely well compared to European projects. The reimbursement takes place within two months of submitting the acquisition documentation and proof of payment. Payment is made in stages or all at once. There is fierce competition and the scheme works on a first come-first served basis," added Mircea.
Eligible candidates are firms which ended 2012 in profit or companies founded in 2013 that had activity up to this point.
"If we managed to replace financing through bureaucratic structures with a structure setting up some revolving funds that come up with equity for SMEs, there will be dynamism in people's appetite for entrepreneurship," said Sergiu Negut, partner at Wanted Transformation.
Otilia Haraga