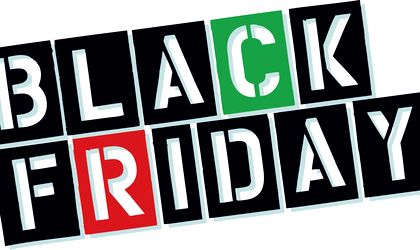 Domo, eMAG.ro, evoMAG, Flanco, F64, PC Garage.ro, Koyos.ro, QuickMobile.ro, MarketOnline.ro, Azerty.ro, Fashion Days and Carrefour were just a few of the retailers preparing to take part in last week's local version of Black Friday, the shopping event of the season. BR gives a roundup of the marketing strategies, allocated resources and preparation efforts that Romanian firms put into protecting this year's shopping spree from the same glitches as in the past.
By  Otilia Haraga 
While in its country of origin, the United States, Black Friday will take place on November 29, most Romanian companies opted for an earlier date and decided to hold it on November 22. Retailers such as evoMAG, eMAG and Flanco championed the idea, while others were quick to jump on the bandwagon.
A survey carried out by Daedalus Millward Brown found that approximately 7.4 million Romanians are aware of what Black Friday is about, while about 4.2 million said they would actually buy something, up from 2.4 million in 2012. The intention to shop hiked by 75 percent this year compared to the last.
The survey, which was carried out between November 8 and 13 on 2,000 respondents between 18 and 50 years old, with mobile phone access, also showed that the youngest consumers, aged 18-24, are most open to discounts, with 60.9 percent of these respondents having heard of Black Friday, followed by 25- to 34-year olds, of whom 58.5 percent have heard of the event.
"Youngsters are more and more connected to information, they are dynamic and set the pace online, spreading information at the same time," said Daniela Lazar, general manager of Daedalus Millward Brown.
Men were the most eager buyers, with about 17 percent of male respondents saying they would definitely shop on Black Friday, with only 10 percent of women saying the same.
The top five items on women's shopping lists were small electronic home appliances (45.3 percent), clothes (27.5 percent), TV sets (14 percent), footwear (12.8 percent) and laptops (8.8 percent).
Men favored electronic products and car accessories (26.1 percent), TV sets (23.2 percent), clothes (17.3 percent), mobile phones (14.3 percent) and laptops (14.1 percent). Traditionally, more online retailers have jumped at the opportunity to have their products showcased at a discount, most likely since more resources need to be deployed in the conventional retail sector.
Online payment processor PayU Romania predicted that this year more than 400,000 Romanians would take advantage of the discounts offered by e-stores on November 22. The company estimated the value of the purchases would exceed EUR 40 million.
However, in previous years not enough resources were allocated by retailers to prevent websites from collapsing under the weight of the demand.
For November 22, PayU doubled the number of people in its anti-fraud and consumer support departments.
"This year, we started preparations for Black Friday as early as spring. After discussions with large retailers, we optimized the platform for processing online payments to meet the large processing volume estimated for the early hours of the morning, but especially to fit to the commercial strategy of each of them," said Daniel Nicolescu, general manager of PayU Romania.
According to PayU, IT and electronic online stores receive the bulk of orders, with their number soaring by 300 percent. A significant evolution of up to 40 percent is also expected in the fashion, toys and books segments.
Since products bought on Black Friday exceed the usual average value, PayU also forecast a growth in the number of card transactions with payment in installments. Nearly all online stores offer this option at the moment.
"Acquisitions made during events such as Black Friday have a massive emotional significance for shoppers. Online stores have taken advantage of this benefit as clients, apart from the shopping they do, also get strongly attached to the store brand in question and promote it enthusiastically to their friends," said Nicolescu.
In 2012, Black Friday sales in Romania totaled EUR 60 million. This year, Iulian Stanciu, general manager of eMAG, estimates total sales will stand at about EUR 100 million overall.
"We want to shatter the myth that Black Friday is just an occasion for selling off old stock. At least three quarters of the products that eMAG is showcasing at a discount were launched in 2013," said Stanciu.
eMAG invested EUR 500,000 in servers and its online platform, to cope with the orders for the 250,000 products it has in storage, including IT, photo, personal care, cosmetics, books, toys, pet, and home & garden products.
The company estimated peak sales of EUR 22 million on Black Friday, which is double the value in 2012. It expected to receive 200,000 orders and over 4 million visits to its website.
eMAG increased its storage capacity by 50 percent, and a dedicated 4,000 sqm warehouse and a 210-strong logistics staff to work around the clock.
IT&C retailer Flanco met Black Friday with two new outlets in Galati and Deva, which took its total store count to 82. The two branches were opened following a total investment of approximately EUR 787,000 (RON 3.5 million), which added 1,400 sqm more sale space to its network.
"We expect to have 1 million visitors and sales of RON 85 million (approximately EUR 19 million) on Black Friday weekend," said Violeta Luca, CEO of Flanco.
Over the previous six months, the retailer had made efforts to optimize its infrastructure and improve operations across its outlets. The working day became four hours longer, there were 30 percent more sales consultants on location, and 50 percent more cash registers were set up. The company also simplified billing procedures to last on average two minutes. Last but not least, the IT support and logistics departments worked around the clock to meet demand.
Compared to last year, Flanco increased its total level of stocks by 80 percent, and included four times more tablets and mobile phones and three times more smart TVs in its range.
Flanco was not the only retailer to offer Black Friday discounts for the entire weekend. Photo equipment and accessories retailer F64 slashed its prices for three days, including Sunday, November 24.
Customers who had subscribed to the company's newsletter received the list of discounted products a few hours before the start of the campaign.
While last year, F64 received 5,700 orders over the Black Friday period, this year it was making twice as many offers and estimated the number of sales would double, Marian Alecsiu, co-founder of F64, told BR.
"Making a profit is not the issue. If we only thought about profit, we would not do Black Friday. However, during this time we aim to increase our market share and the number of new customers," said Alecsiu.
The company has boosted its website infrastructure to face the growing demand. "We have allocated both technical and human resources to the Black Night. And we are not talking merely about the IT department but also about the store and call center departments, where the numbers will be three times as big during this time. (…) Deliveries are the least of the problems. We have already talked to our collaborators to prepare cars that will collect product packages every two hours," he said.
IT&C online retailer PC Garage.ro also announced it would stick to short deadlines for delivery.
"In all our statements, we assured customers that we would meet orders within 48 hours at most, which is a very important factor when making the shopping decision. Given that this year, the last Friday of the year is very close to Romania's National Day, a public holiday that would have influenced the delivery of the orders, we made the decision to stage Black Friday a week earlier," entrepreneur Marius Ghenea, owner of PC Garage.ro, told BR.
The company estimated it would register 20,000 orders, and sell 5,000 tablets, 5,000 smartphones, 3,000 laptops, and IT components worth EUR 1 million. It expected Black Friday sales to be at the level of the firm's typical monthly sales.
"Black Friday 2013 brings discounts for the new brands in the PCGarage range. The store signed special partnerships as early as September with its suppliers to ensure larger stocks," said Ghenea.
The retailer updated its website architecture to meet growing demand from shoppers. "The PC Garage website is available and served via three separate internet connections with balancing and failover roles," Ghenea told BR.
While most online stores focused on retail clients, Azerty.ro marketed itself as the first e-store to have a Black Friday for companies, with prices on the business segment being cut by up to 50 percent.
Products from the firm's range of video projectors, PC systems, servers, surveillance systems and network equipment were all reduced in price.
"Starting from the idea that over the past few months companies have faced a difficult economic context due to growing taxes, we thought we could approach Black Friday this year as an event to support them. So we launched the Black Friday concept for companies, so that they could acquire business products at discounts of up to 50 percent," said Ana Mihailescu, marketing manager at Azerty.ro. "This year, Azerty.ro will definitely see a significant growth in the average order value on last year, when the products sold on Black Friday targeted only consumers. Therefore, we expect sales of more than RON 8 million (EUR 1.8 million) from this campaign."
Retailer Domo, which has a network of 97 outlets in Romania, structured its offer around a survey carried out on 4,642 people which found that consumers intended to buy mostly tablets (26.4 percent), TV sets (24.4 percent), mobile phones (21 percent) and laptops (18.3 percent).
The results found most respondents planned to make purchases of less than RON 1,000, with 32.6 percent intending to spend between RON 500 and RON 1,000 and 27 percent below RON 500.
About 19.5 percent of consumers were thinking of spending between RON 1,500 and RON 2,000. Only 9 percent planned to splash out more than RON 2,000. Most respondents (63 percent) said they preferred to do their shopping online while 37 percent opted to go to traditional stores. Domo signed partnerships with premium delivery companies to distribute online orders. In its stores, it increased the size of its shop-floor staff by 50 percent and reduced the time spent at the cash register by the same proportion.
otilia.haraga@business-review.ro