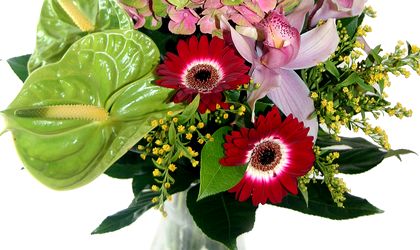 Romanians will spend approximately EUR 2.5 million on purchasing flowers online this year, which represents about 2.5 percent of total flower sales. The online segment is set to continue to flourish to reach a total of between 10 and 15 percent of the market in about five years' time, predicts local player Floria.ro.
By Simona Bazavan
The most recent official data show that Romania imported EUR 20 million worth of cut flowers in 2011. Combined with the internal production, which is believed to have reached EUR 10 million the same year, and multiplying it all by the industry's average mark-up, Romanians are estimated to have spent some EUR 100 million on flowers in 2011, both online and offline, says Mugur Frunzetti, the owner of online flower shop Floria.ro.
The black market represented about half of total flower sales in 2011 but its share shrank in 2012 following stricter custom and fiscal inspections.
The online store estimates it will grow its turnover to more than EUR 1 million this year, up from EUR 700,000 the previous year, which makes it the leader of the local online flower business, according to company data.
In 2013, the total flower market will maintain a level similar to last year's but the online segment is posting a clear and strong growth trend, says Frunzetti.
"The local flower market reminds me of the Romanian IT&C market back in 2006 and 2007. It has an extremely small online segment but is looking at considerable growth ahead," as Romanians discover the convenience of ordering flowers online and having them delivered, said the Floria.ro owner.
Overall the online flower business is expected to grow from about 2.5 percent this year to as much as 10-15 percent in five years' time. At present there are several hundred online flower stores in Romania but the top 10 players cover 90 percent of the online business and the top 5 companies 80 percent.
The 36-year-old entrepreneur, who sold a previous online project, Marketonline.ro, for EUR 1 million in 2009, set up Floria.ro in 2010 with a EUR 250,000 investment.
Fashionable flowers this year
There are trends when it comes to bouquet arrangements and this year is all about electric colors, says Floria.ro. The star piece in this summer's bouquet collection is the lime and pink hydrangea followed by purple irises, Vanda orchids, lisianthus flowers and yellow lilies.
Romanian consumers are generally open to new suggestions; however, men, in particular – who represent 95 percent of Floria.ro's customers – continue to prefer roses, more so than in other countries, even if women do not share their tastes, says Frunzetti.
simona.bazavan@business-review.ro