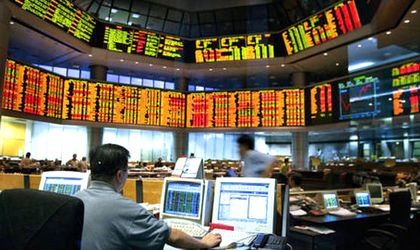 Romanian firms occupy the top spots in a ranking of the biggest companies in South-East Europe in 2013, put together by SeeNews. Since the previous year's list, two more Romanian players have entered the chart, taking the total to 53 compared to 51 in 2012.
BR
Local firms are prevalent at the top of the ranking, with five out of the ten largest companies in SEE being Romania-based.
TOP 100 SEEis an annual ranking of the biggest companies in South-East Europe, put together by Sofia-based news agency SeeNews. Businesses are ranked by their total revenue for the fiscal year ending December 31, 2013.
Aside from listing the largest non-financial companies by total revenue in 2013, SeeNews TOP 100 SEE ranks the biggest banks and insurers, and includes interviews with the chart-toppers and key market players. It also features sub-rankings of the most profitable companies, biggest loss-makers, the most successful industries and the companies with the highest revenue per capita.
Overall in SEE, oil and gas companies continue to place at the top of the ranking and generate most of the total revenues, although their combined revenues and profit fell, the report notes. This year's list features 29 firms in the energy industry, up one on 2013, while wholesalers and retailers number 17, three more than the previous year. Only seven telcos made the ranking this year, down from previous editions.
Local energy firms among biggest companies in SEE
According to the analysis by TOP 100 SEE, Romania is bucking the trend in the region, with its economy expanding by 3.5 percent in 2013. The country's performance comes against a background of low foreign investment rates across the region, coupled with low external demand and household consumption.
OMV Petrom topped the chart for the seventh year in a row, despite having posted a drop in revenues of nearly 3 percent to reach EUR 4.27 billion in 2013. The company, which saw its net profit rise to EUR 1.08 billion, is also singled out in the rankings as the most profitable in SEE, with a 25.27 percent return on revenue. In an interview with TOP 100 SEE, Mariana Gheorghe, CEO of OMV Petrom, attributed the company's performance to "massive investments performed in the past nine years – totaling EUR 10 billion – across all business divisions and departments." However, the oil giant felt the impact of the "structural changes on global gas and energy markets, the volatility of the fiscal and regulatory environment in Romania and shrunken demand," the report notes.
In second place was Automobile-Dacia, the only company from the auto industry in a list whose first seven spots were dominated by energy companies. The carmaker's revenues increased by 44 percent to EUR 4.2 billion in 2013. Its net profit rose to EUR 75 million, from EUR 63 million in 2012. The report notes that the firm's results were influenced by the absorption of the 100 percent-owned Renault Industrie Roumanie unit at the beginning of 2013, while it continued to renew and expand its product range. It added that Dacia made a comeback in 2013 after slipping to number seven in the list in 2012. Overall, the TOP 100 SEE analysis found that carmakers in SEE have seen continuous revenue growth in recent years, from EUR 4.6 billion in 2011 to EUR 9.05 billion in 2013. The combined net profit of carmakers in SEE stood at EUR 138 million in 2013, according to the source.
Besides OMV Petrom Marketing, which came third in the ranking with EUR 3.259 million in revenue last year, two other energy companies round out the top six: Rompetrol Rafinare, with 2013 revenues of EUR 2.637 million, and Rompetrol Downstream, on EUR 1.953 million.
A construction firm, the state-owned road construction and maintenance company Compania Nationala de Autostrazi si Drumuri Nationale din Romania (CNADR) posted the sharpest rise in revenue to reach EUR 2.173 million in 2013. According to the TOP 100 SEE analysis, the company's total revenues increased largely because of transfers from the state budget.
Elsewhere in SEE, the construction and car manufacturing sectors were among the industries seeing high increases in the combined revenues of the represented companies, by 320 percent and 48 percent respectively, according to the report. Only one constructor made the list, however, with two companies in the car tire manufacturing business joining the auto players featured.
Several Romanian retailers made the TOP 100 SEE ranking, among them Kaufland Romania, in 16thposition with 2013 revenues of EUR 1,629 million, Carrefour Romania at number 33 with EUR 969.7 million, and Selgros Cash& Carry at number 40 with  EUR 787.4 million.
German discount hypermarket chain Kaufland recently opened its 100th store in Romania, having entered the local market nine years ago.
French retailer Carrefour currently operates 160 stores in Romania under five retail brands – 25 Carrefour hypermarkets, 80 Carrefour Market supermarkets, 47 Express proximity outlets, seven Contact proximity stores and one online platform. It also opened its first Supeco store in the country in Ramnicu Valcea, under a concept that combines discounter with cash and carry.
Cash and carry retailer Selgros, which owns 19 stores in Romania, announced this September that it had put EUR 6 million into refurbishing its Baneasa and Berceni outlets in Bucharest, after opening its online platform at the beginning of the year.
BCR tops banking ranking
Erste-owned Banca Comerciala Romana (BCR) led the TOP 100 Banks ranking, with a total of 22 chart entries hailing from Romania. Although its assets dropped 10 percent to EUR 14.16 billion in 2013, BCR maintained its SEE leadership position for the fourth year in a row. The local subsidiary of Raiffeisen reported the largest net profit among SEE banks in 2013, at EUR 107.7 million, the report shows.
For bank loans, BRD Groupe Societe Generale came third in the SEE Top 100 for 2013, with loans of EUR 6,191 million, followed by Banca Transilvania at number eight with EUR 3,753 million and UniCredit Tiriac Bank ninth on EUR 3,599 million.
Regionally, the SeeNews report notes that 70 out of the 100 banks making up the chart reported a profit in 2013 "but the overall result of the biggest banks in the region was a negative EUR 2.18 billion." The combined losses of the institutions included in the 2013 edition amounted to EUR 2.1 million in 2012. The assets of these lenders totaled EUR 246.9 billion at the end of 2013.
Runner up to BCR was Zagrebacka Banka in Croatia, which posted an almost 3 percent rise in assets. The difference between the assets of the two top lenders stood at EUR 216 million.
Some 22 of the banks in the list are from Romania, 18 hail from Bulgaria and Serbia and Slovenia each had 15 lenders on the list.
SEE insurers face uneven recovery
Insurance companies in South-East Europe were faced with challenging market conditions, which affected their profitability and led to a combined net loss of EUR 70 million in 2013. The combined net profit of the top five insurers in SEE amounted to EUR 75.8 million, down 18.3 percent on the previous year, the report notes.
The biggest insurer in the region was Ljubljana-based Zavarovalnica, reporting gross written premiums (GWP) of EUR 605.8 million. In second place came Croatia Osiguranje, with recorded GWP of EUR 343.7 million in 2013.
The Romanian market contributed the most firms to the SEE TOP 100 Insurers ranking, at 21. The highest-ranked local insurer was Astra, at number six, with GWP of EUR 205.5 million in 2013. It is followed by Allianz – Tiriac Asigurari at number seven with EUR 204.9 million, Omniasig Vienna Insurance Group (formerly BCR Asigurari VIG) eighth with EUR 196.5 million of GWP, and Groupama Asigurari in ninth place, with EUR 160 million in GWP. Asirom Vienna Insurance came in at number 15, with GWP of EUR 121.3 million, right after ING Asigurari de Viata, at number 14, with EUR 124.8 million.
Local companies among most profitable businesses
Romanian firms also topped the SeeNew chart for profitability, with OMV Petrom taking first spot in the ranking, posting a 25.27 percent return on revenue in 2013. Romgaz came second with 24.07 percent, followed by Hidroelectrica on 22.05 percent. Continental Automotive was fifth with a 20.16 percent return on revenue last year.
The best represented industries among the most profitable companies in SEE were energy, telecom, automotive, followed by furniture and decoration and tobacco. Romania-based Holzindustrie Schweighofer ranked seventh in SEE, with a 19.51 return on revenue last year, while British American Tobacco Romania came 20th with 5.70 percent.
Methodology of the ranking
SEE TOP 100
The SEE TOP 100 ranking covers non-financial companies registered in Albania, Bosnia and Herzegovina, Bulgaria, Croatia, Macedonia, Moldova, Montenegro, Romania, Serbia and Slovenia. Banks, investment intermediaries, insurers and real estate investment trusts (REITs) are excluded from the ranking as total revenue is not an accurate indicator of their performance. Separate rankings were compiled of the largest 100 banks and insurers. Holding companies are represented in the ranking by their subsidiaries.
All data is sourced from national commercial registers, stock exchanges, government and corporate websites, industry regulators and companies themselves.
The initial pool of firms exceeded 1,200. The ranking does not include companies that declined or failed to provide financial results by the time SEE TOP 100's content was finalized.
All local currencies in the rankings have been converted into euro, using the respective central bank's official exchange rate on the last working days of 2013 and 2012. Year-on-year changes in the companies' financial indicators have been calculated using the figures in the original currency.
SEE TOP 100 banks
SEE TOP 100 banks is a ranking of the largest banks in South-East Europe in terms of total assets from non-consolidated bal­ance sheets as of December 31, 2013. All data is sourced from central banks, national commercial registers, financial supervision commissions, bank associations, government and corpo­rate websites and companies themselves.
The initial data pool exceeded 250 banks registered in the re­gion, including branches and representative offices of foreign banks.
SEE TOP 100 insurers
SEE TOP 100 insurers is a rank­ing of the largest insurers (ex­cluding re-insurers) in South-East Europe in terms of gross written premium from non-consolidated income statements for 2013.
All data is sourced from central banks, national commercial registers, financial supervision commissions, insurance asso­ciations, government and cor­porate websites and companies themselves. The initial data pool exceeds 260 insurers.
SEE TOP 100 listed companies
SEE TOP 100 listed companies ranks the biggest companies in South-East Europe by market capitalization as of December 31, 2013, sourced by Banja Luka Stock Exchange (BLSE), Belgrade Stock Exchange (BELEX), Bucharest Stock Exchange (BVB), Bulgarian Stock Exchange (BSE), Ljubljana Stock Exchange (LSE), Macedonian Stock Exchange (MSE), Montenegro Stock Exchange (MNSE), Sarajevo Stock Exchange (SASE) and Zagreb Stock Exchange (ZSE).
The initial data pool included more than 1,300 public companies located in South-East Europe with their regular and preferred shares. We excluded from the ranking both companies listed on the Bucharest Stock Exchange, but not headquartered in SEE countries – Erste Group Bank AG (stock symbol EBS) and New Europe Property Investments Plc.(stock symbol NEP).
Most profitable companies
Most profitable companies is a ranking of the top 20 companies with the highest return on revenue in the SEE TOP 100. Return on revenue is calculated as net profit divided by total revenue, both in euro terms.