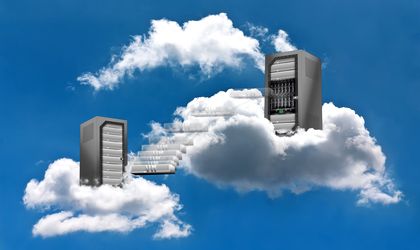 Talk of the cloud has started to travel higher up the hierarchy in companies hoping to use it as a springboard for innovation. However, in the public sector, the transition to cloud is a different kettle of fish, as the legislation is incomplete and outdated. The EU is taking steps to ensure legal unity and solve the data privacy issues that are clogging the decision-making process.
[restrict]
By Otilia Haraga
Cloud adoption forecast in Romania
The local cloud computing market is forecast to reach EUR 150 million in 2017, with annual growth of an estimated 30 percent, while the global market is predicted to surpass EUR 150 billion in 2016, with annual growth of 15-18 percent, Bogdan Balaci, CEO of Ymens, tells BR.
One trend he identifies has been dubbed "the birthplace of value-added services", meaning the adjacent services that complement business solutions used in the cloud.
He also notes that companies are no longer interested in using only Software as a Service (SaaS), but also platforms (PaaS) and infrastructure as a service (IaaS), which leads to a new IT consumption model named XaaS, or Anything as a Service.
There is a gap between the Romanian and Western markets, Valentin Tomsa, GM of SAP Romania, tells BR. However, he believes this could become an advantage for Romania because local firms are much more open to adopting new service and technology models without being restrained by the need to recover previous IT investments.
He says that the cloud services that are most in demand locally are those dedicated to HR management.
"At the moment, all major cloud solutions are provided by companies in the United States, of which the largest are the Amazon and Microsoft clouds. Romania is a consumer of these solutions, and there are numerous local companies developing for them. In terms of revenues from cloud computing services, Romania is a small player both at global and regional level. We do not have data for the Amazon cloud, but as far as Microsoft Azure is concerned, Romania only just makes it into the top ten for Eastern Europe, after countries such as Russia, Poland, the Czech Republic and Hungary," Alexandru Lapusan, CEO and co-founder of Zitec, tells BR.
Public sector lags behind in cloud adoption
The public sector continues to play catch-up in cloud adoption, agree most experts.
"State institutions in Romania have invested and are investing massively in hardware and infrastructure, in projects that are parallel with cloud. Public cloud solutions are definitely out of the question due to special legal requirements that state institutions must comply with when they use applications storing data. Of course, private cloud or hybrid cloud solutions could be possible. Discussions are probably ongoing with all types of cloud providers and it remains to be seen how they will turn out," Adrian Blidarus, managing partner at Softelligence, tells BR.
Razvan Stoica of GTS Telecom quotes the European Agency for Network and Information Security (ENISA) which described Romania as "hesitant" in the public cloud area.
However, things are slowly starting to move in a new direction. Stoica tells BR that a tender was recently launched and the ICI (National Institute for Research and Development in Informatics) will build a cloud platform for government agencies, which will be financed from EU funds.
Lapusan mentions another cloud implementation in the public sector, which benefitted the Ministry of Education. "The website listing high-school admission results was migrated onto the Microsoft (Windows Azure) website in 2011. This was the first year in which the website was available and it worked well, also in high-traffic periods, for the publication of results," says Lapusan.
On a wider scale, cloud solutions for the public sector are becoming a very hot topic in 2014. Balaci says that in the UK such solutions are known under the name of G-Cloud.
In Romania, only a few public institutions have decided to use cloud solutions.
Balaci explains that G-Cloud means that the usage of pre-defined basic services (like unified communication, document management, budgetary execution) on a cloud platform is regulated and imposed as the main procurement model, in order to ensure financial sustainability, integration and to address the lack of specialized human resources in the field.
"There are two main factors for success. Firstly, there is the eligibility of cloud projects for EU funding over the 2014-2020 financing period. Secondly, there is a need for market regulation in order to have certified G-cloud private operators," says Balaci.
Personal data privacy issues yet to be addressed
"The lack of transparency in the chain of outsourcing/subcontracting the processing of personal data by the cloud provider, the lack of a common global framework of data portability and the uncertainty regarding how admissible it is to transfer personal data to cloud computing providers outside SEE are probably the risks that the state, as a potential user of cloud services, is exposed to, and is not willing to run, at least under the current legal framework," Nicoleta Boaru, corporate services manager at Accace, tells BR.
Players face a series of security issues regarding the processing and storage of personal data. While the national legal framework is deficient, efforts are being made at European level to address this issue, Boaru adds.
The EU intends shortly to adopt a legal framework protecting individuals' personal data processing and free circulation, she notes. "The current form prefigures the setting up of an authority for monitoring personal data at EU level, as well as significant fines when the personal data protection regime is not respected. Once adopted, the framework will be applied directly in EU member states," says Boaru.
The best example of the lack of transparency that Accace cites is when the cloud provider subcontracts to third parties a series of services involving the processing of personal data. "In this situation, the easiest way to ensure user protection would be to impose through this framework the introduction of contractual stipulations to ensure that these processing services are subcontracted only with user agreement," says the manager.
According to Boaru, in Romania, personal data processing and free circulation fall under Law 677/2001, which does not expressly refer to cloud services. The law applies to operators with local offices, Romanian diplomatic missions/consulates, and operators that are not established in Romania but use any type of resources on its territory.
She points out that the fundamental principles of the EU legislation on data protection have been transposed in Law 677/2001, which also sets the penalties for breaking the law. Fines for breaking the law can vary between RON 500 and RON 50,000. The National Supervisory Authority for Personal Data Processing is the institution in charge of identifying breaches and applying the penalties, says Boaru.
"The main challenge is that from the legal viewpoint, with personal data, the procedure to license an operator requires licensing the entire chain – the entity that works with the client (bank or insurance company), the provider of the solution and the hosting provider. On top of this, certain information can only be taken out of Romania with prior notification of the state, which slows down and discourages the adoption of cloud-based solutions in these industries. What's more, European regulations forbid the transfer of data to embargoed countries or countries that do not have a safe harbor agreement with the EU, which can become relatively difficult to control," explains Blidarus.
Cloud paves the way for new type of organization
The CFO's say in a company's adoption of new technologies is increasingly important. CFOs are choosing cloud solutions to modernize their organizations' processes, according to Empowering Modern Finance – The CFO as Technology Evangelist, a global survey carried out by Oracle and Accenture with Longitude Research.
The survey included 1,275 CFOs, top and middle executives from organizations with annual sales of over USD 250 million from all over the world, out of which 670 respondents are working in the EMEA region.
Over two thirds of respondents agreed the CFO was a strong supporter of the transformative power of technology, and nearly three quarters of financial directors believe technologies such as cloud, mobile solutions and social networks will change the way the budget is drawn up and managed.
Some 28 percent of survey interviewees were already using cloud solutions to support the budget planning and forecast, while another 33 percent intended to transfer them to cloud over the next year. Furthermore, 24 percent had adopted a cloud-based system in certain departments for basic finance, while 45 percent were planning to do so.
"Financial directors today are creating financial organizations that adopt cloud technologies and other disruptive technologies to use the power of digital solutions and propel the company forward," says Scott Brennan, director for Accenture strategy in finance & enterprise performance.
The maturation of big data, cloud, mobile solutions and social networks have brought organizations to a critical point where they need to re-assess their digital strategies, concludes the report.
About 70 percent of respondents believe these technologies will change the way in which they are leading and managing their financial processes within the company. Only 5 percent of respondents complained that the lack support from the top management was an obstacle to adopting new technologies for financial operations.
"The main trend that can be seen globally, but also in Romania, is the fact that cloud services are no longer related to TCO (Total Cost of Ownership). We are no longer talking about IT – the time has come when important decisions regarding technology are made outside the IT department and the CIO's office. The main thing that will influence cloud adoption will no longer be budget economies but innovation, since top companies will invest in cloud as a basis for the new competitive offers," Tomsa tells BR. He adds that the IDC predicts that by 2016, new IT investments will involve business executives as the main decision makers in more than half of the cases.
In Romania, the top management has a very positive attitude to cloud, "due to its low upfront investment, rich functionality and the possibly to focus on the core business, and they often like the elasticity of the cloud," Marcin Grygielski, territory manager for Eastern Europe, tells BR.
He adds, "The financial department also sees cloud solutions as positive, due to their predictable costs and the fact that cloud providers allow them to control capital expenditures by using an operating expense budget instead."
In IT departments it's a different story. Even though it should be the driver for technological change, IT has "the least positive attitude towards the cloud," says Grygielski. "What cloud does is to force the IT department to start working differently by shifting from technology management to vendor management. Not many IT departments are willing to give up key control of their business infrastructure," he explains.
Balaci shares his company's experience when dealing with clients. He says Ymens talks cloud with top and middle managers. Generally, top managers turn to cloud in order to optimize their business processes and focus on their core activities, while middle managers enquire about cloud in an attempt to reach greater efficiency in their departments, Balaci tells BR.
He says that CFOs see cloud as an answer to transform CAPEX into OPEX and to optimize overall investments.
On the other hand, IT departments' perceptions of cloud are mixed, he says. "Some IT managers see cloud solutions as the future of technology and are racing to embrace them in their company, while others have a more reticent approach as they wrongly perceive cloud as a solution that diminishes their importance in the company. When it comes to cloud migration I believe that cloud will enhance the importance the IT department has in the overall business, not only regarding technology consumption inside the company," he concludes.
[/restrict]