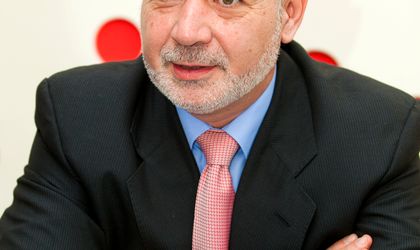 The tourism industry has got off to a more promising start this year as currency stability has reignited Romanians' appetite for travelling abroad, with vacations at home accounting for just a fraction of local tour operators' offers. Javier Garcia del Valle, executive vice-president and CEO of Happy Tour Group, talks to BR about the group's strategy to consolidate its local leadership position while also expanding regionally.
By Simona Bazavan
What are the most popular travel destinations for this year's Easter holiday?
What we have seen is that there are two key trends. The first is to stay at home, in Romania, as I have seen that for Romanians, Easter is a very traditional family holiday. Some people prefer to go to the mountains or the seaside here in Romania, but others are choosing our charters for destinations such as Antalya, Greece, Crete and Cyprus, usually southern destinations where the weather is warmer than in Bucharest. There is demand for the usual European city destinations and during this period it is also a good time to go to Dubai.
Over the past few years have you seen people plump for local destinations rather than going abroad?
Romania is a fantastic country and a marvelous travel destination but it is not held in as high regard as it should be. The crisis has definitely pushed Romania more as a destination and by this I don't refer only to the economic crisis. Don't forget that between June 2011 and June 2012 there was a devaluation of almost ten percent of the Romanian currency, leading to many people deciding to spend their holiday in the country last year. So in 2012 we saw a very strong trend towards local holidays and we believe that this was mainly because of the currency effect. Even so, the share of package holidays in Romania in our total turnover is still very small.
What about demand for foreign destinations?
This year the number of bookings we have taken for abroad is far higher than last year. The number of reservations we had on April 1 is three or four times what we had at the same time last year. It is encouraging but we will have to see what happens next. The fact that we have a stable government and therefore stable currency helps very much.
What do you expect the situation to be in 2013 regarding local holidays and how could Romania attract more visitors on the long run?
I am not saying that this year we will not see people staying in Romania. There are clients for all destinations but the more the infrastructure improves, the more Romanians will spend their holidays here and the more foreigners will come.
For example, because of the highway to Constanta, it takes only three hours to get to Balchik in Bulgaria, while going to Sibiu, which is the same distance from Bucharest, takes more than five hours.
Similarly, why drive five hours to Sibiu when in an hour and a half I can be in Antalya? Why go to Sibiu and pay the prices there if for EUR 500-600 I can get a week all-inclusive in Antalya, flight included?
This is the problem. Romania has all the ingredients to be a top destination. I would recommend a stronger focus on infrastructure and better promotion. Since I came here four years ago, there has definitely been an improvement. Look at Bucharest's OldCenter alone or what an event such as the Europa League final last year has meant for promotion. We need more of this.
Judging from the way things are progressing right now, it will be even better in five years' time. But is it enough? My answer is no. It is never enough.
Last year Spain had more than 58 million visitors and it still continues to invest in promotion. This is an ongoing process and the more you invest, the more you get back. This is what I think our politicians need to understand. Tourism is an industry and it can be a serious income generator.
With the right infrastructure in place people would definitely come here. However, this will not happen overnight. It is a process. It takes time and it needs a continuous investment in marketing and infrastructure.
And when I talk about investing more in tourism I am talking about everyone involved – the government, local administration, hotels, travel agencies, restaurants and so on. It is a combined effort. The government should bring tourists here and our goal is that while they are here they are fully satisfied so they return and promote the country to others.
Do you know of a national plan or strategy for the local tourism industry?
I haven't seen such a plan. Maybe there is but I personally haven't seen it. I know that there is a master plan for tourism for the 2014-2020 period. But I don't know if the new government will adopt and continue with it or modify it.
We should start with the question: 'How is Romania perceived abroad?' The perception is worse than the reality and this should be addressed.
Four years ago, when I was told that I was coming to Romania, I was bit shocked because, unfortunately, Romania's image in Spain is not the best, which is a big, big mistake. But when I came to Romania, to me Bucharest felt safer than Malaga. When I had the opportunity to bring family and friends here, they were amazed. And I only took them to Sibiu, PelesCastle or Brasov.
So why not try to change the perception? Why not try to invest in television campaigns abroad? Why not try, for example, a television campaign in Spain and have Spaniards living in Romania tell their fellow compatriots how great Romania actually is? The same elsewhere. This will probably do more than a typical advertising campaign. But, on the other hand, when foreigners come here we also have to have the services ready. There are many places in Romania which are prepared for this but this is not the case everywhere.
By how much has the average value of a package holiday decreased over the past year?
Over the last three years I would say by roughly 15 percent on average. But this drop was not all because we have all decreased our margins, which we have, but also because lower demand has brought down prices.
However, what we've seen starting this year is that little by little prices have begun to rise again. There has been a slight increase. I am not saying we will recover this 15 percent fall. This will take a few years, perhaps even five or six years for a travel agency. This rise has been generated by higher costs and there is also a slight increase in travel. The full half of the glass is that lower prices for package holidays have meant the crisis has helped a new segment of the population travel. People who could not afford to travel before, when the prices came down, could afford it.
How have consumer trends evolved over the past year and how have you addressed this in order to grow?
There are those looking to control their budget and those looking for new destinations. There is a part of the population which is no longer tourists but travelers. There is a big difference. A tourist is taken somewhere, a traveler goes. Unfortunately, in travel as well as in other industries, price remains an important driver.
One of our main advantages is our ability to adapt. Some may think that because we are big it takes time for us to adapt. In fact, we are very flexible. For example, we have seen a big trend for senior products over the past two years and we have offered that. There was a trend for all-inclusive and most of our products, wherever possible, are all-inclusive but without overlooking those who do not want all-inclusive. Flexibility is having a product for everyone, be it an individual or corporate client, young or old.
Flexibility has also meant launching new destinations for the first time in Romania. Last year we were the first to offer a charter to Eilat, this winter skiing in Yeshurun in Turkey and this summer, Split, Croatia, for the first time in Romania. We were also the first ever to offer in Romania Dubai, Majorca and Tenerife.
What turnover did you report last year and what is the target for 2013?
I cannot provide the exact figure because the audit results are not available yet, but we had a consolidated turnover of around EUR 65-67 million in 2012. Although our best year on the local market was before the crisis, since 2009 we have maintained an upward trend and 2012 was better in terms of sales than 2008. In 2009, for example, we had a turnover of EUR 28-29 million. Since then we have made new acquisitions for the group but this was done through our own money and not funds coming from GED (e.n. Happy Tour was taken over by private equity fund GED in 2007) which is very important.
As for 2013, we want to offset the fact that one of our major corporate clients, Petrom, has chosen a global provider instead of us, and even grow. Judging from the results from the first two months of 2013, we are on the right track.
What are your development targets for 2013?
The goal is to keep developing all business lines with a focus on growing the associated agencies network and developing the online platform Paravion and Prestige Tours. As of today we have 82 agencies in 46 cities in Romania and Bulgaria and we are the largest network of travel agencies on the local market. We want to continue growing and developing Paravion, which is also present in Bulgaria, Cyprus, Hungary, Italy and Spain, and even take it to new countries such as Germany and Croatia.
Prestige Tours is our most recent acquisition; we bought it a year and a half ago. It has huge potential. It is the only real tour operator selling B2B in Romania at present and it is also our incoming travel agency.
Are there any expansion or acquisition plans in the pipeline?
Never say never, but, in principle, we do not foresee any new acquisitions in Romania. Not at this point. We want to consolidate our presence and focus on regionalization. We have just opened in Bulgaria this February; we want to grow there and of course maintain our leadership position in Romania. We want go to other countries. If an option comes up we will investigate it but right now we are not looking at anything in particular.
What is your market share in Romania?
This is a tricky question as there are no official, accurate data based on which to calculate this. The authorities say that the travel industry in Romania is worth about EUR 500 million, so for us this meant a market share of 13-16 percent last year, depending on the month. But this is not accurate data. We don't know how this EUR 500 million figure was calculated. We don't even know how many tourists came to Romania last year or how many room nights were reported. I don't know how they came up with this figure. But, anyway, we are the market leader.
What is your favorite destination in Romania?
My favorite destination in Romania is Romania! I went to see the Danube Delta and I was amazed by what I saw and the opportunities there. I went to Transylvania, from Sibiu to Sighisoara, to numerous little villages and again I was amazed. I have to admit that I haven't yet been to the monasteries in Moldova but this is on my to-do list.
We need a bit of a push. And if you consider travel an industry and a business, in every business before doing anything you have to understand what is going on, what is happening. Why are Romanians going to Bulgaria? Is it not the same sea, the same weather conditions? Are there more monuments? It is all about the price-quality ratio.