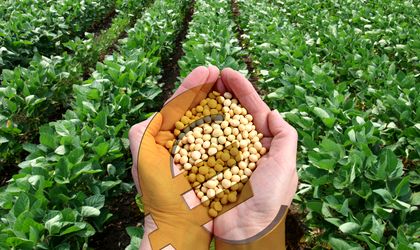 While the EU's direct payment per hectare will rise from about EUR 139 this year to EUR 196 by 2020, following the reform of the Common Agricultural Policy (CAP), Romanian farmers complain not only that the level is too low, but that the way subsidies are currently allocated does little to improve output.
By  Simona Bazavan
Romanian farmers have cashed in close to EUR 5 billion of direct payments out of a total of more than EUR 6 billion available for the 2007-2013 period, not including this year's allocation, according to data from the Payments and Interventions Agency for Agriculture (APIA).
At EU level, direct payments are intended to act as a safety net for farmers by providing basic income support, decoupled from production, thus stabilizing their income against market volatility. In turn, in order to maximize profits, producers must adapt to market conditions.
In Romania, however, direct payments continue to be more than a safety net or an incentive, but a vital income source, for small and large farmers alike.
Direct payments could contribute, or more like should have contributed, to addressing specific issues facing the local agricultural sector, such as low productivity and even land fragmentation and farm consolidation. But almost seven years after Romanian farmers began receiving direct payments, improvements are not visible.
For example, farms of between 1 and 10 hectares continued to represent about 93 percent of the total number of farms in the country in 2011 and cultivated about one third of the country's total farmland. At the other end of the spectrum, large commercial farms of over 100 hectares represented only 1 percent and cultivated 52 percent of the farmland.
A major reason for the lack of progress is the low sums Romania has been allocated from the very beginning, complain farmers.
Romania started in 2007 with direct payments worth only 25 percent of the EU average. Why such a low amount? The level of direct payments per hectare was calculated at that time as yield per hectare multiplied by EUR 63, explained Achim Irimescu, secretary of state at the Ministry of Agriculture and Rural Development, during BR's inaugural Focus on Agriculture event last year.
He added that it all boiled down to the low yields Romania reported in the years prior to EU accession. This was partly caused by the droughts in 1998 and '99, but the main factor was probably the high level of tax evasion, with many farmers not reporting all of their production.
This year Romanian farmers will receive a direct payment per hectare of EUR 160, out of which EUR 139 is EU money and the rest the national contribution, announced agriculture minister Daniel Constantin two weeks ago. By comparison, the previous year the subsidy amounted to EUR 154 per hectare out of which EUR 119 was EU money.
But farmers protest that the money they actually receive is below this level. The reason for this is that the total farming surface for which farmers currently apply for subsidies is about 1 million hectares above the 8.7 million-hectare surface negotiated in 2007 with the EU; hence, the downward correction.
Based on the last few years' experience, Nicolae Sitaru, vice-president of the League of Romanian Farmers' Associations (LAPAR), estimates that following this correction, the EUR 139 received from the EU this year as part of the Single Area Payment Scheme will be reduced by at least 10 percent and the national contribution could fall by half.
CAP reform: higher payments, more focus and simplified payment methods
Over 2014-2020 Romania will have access to some EUR 10.6 billion in direct payments, up by 47.5 percent compared to the 2007-2013 period.
The increase in direct payment funding is a consequence of one of the greatest achievements brought about by the CAP reform, which is the higher per hectare direct payments for the newest EU member states, including Romania. While at present Western European farmers receive subsidies which can be hundreds of euros higher than the amount local farmers enjoy, the CAP reform promises to change this. The future CAP guarantees that by 2019 no member state will receive less than 75 percent of the EU average subsidy. In Romania's case this will mean an increase from EUR 135 per hectare (national contribution not included) this year to EUR 196 per hectare in 2019. Romania is one of only six member states for which per hectare subsidies will go up over 2014-2020, while in the other countries payments will either stay at the same level or decrease.
Another big change is that payment procedures will be simplified. For small farms, member states will have the option to shift from the subsidies-per-hectare mechanism to a simplified fixed subsidy-per-farm scheme, announced the EU Agriculture and Rural Development Commissioner Dacian Ciolos this summer. Even farmers who do not take this second option will still benefit from simplified payment procedures, said the commissioner.
Subsidies will be even higher than the national average for some farmers or sectors. All member states will have to pay 25 percent higher subsidies to young farmers in the first five years after they set up a farm. The number of hectares for which this applies must be decided by each country in accordance with its own priorities and development targets.
Just like the other member states, Romania will have the option to couple payments with production in order to support strategic sectors – up to a limit of 13 percent of the direct payments budget – and offer higher subsidies to farmers from disadvantaged regions.
In order to increase transparency surrounding the way funds are used, the commissioner proposed capping the subsidies large farms receive to EUR 300,000, regardless of the number of hectares cultivated. This idea was vigorously debated in Romania but in the end it was decided the measure would not be mandatory. At the same time there is the option to balance payments between large and small farms by redirecting some of the funds to higher subsidies for the first 30 hectares of land a farmer cultivates.
The higher subsidies promised by the CAP reform could also be used to encourage small or inactive farmers to lease or sell their land to active ones and thus lead to land consolidation.
Another significant change is that 30 percent of direct payments will be linked to farmers' compliance with sustainable agricultural practices such as crop diversification, the maintenance of permanent grassland and the preservation of ecological areas on farms.
Incentive for performance or social protection?
The absorption rate of EU funds alone has been and continues to be something of an obsession with the Romanian authorities. In the case of direct payments available through the Single Area Payment Scheme, the annual absorption rate has been close to 99 percent so far.
While these numbers have been made public, close to no official data is available on how efficiently the money is actually being spent and to what effect. One thing is for sure: almost seven years after joining the EU, Romania continues to be a net importer of food products, albeit the negative balance has shrunk.
Over the years, this matter has fueled debate between farmers, notably small ones, which represent the vast majority, and the larger players. While everyone agrees that the subsidies are too low, larger farmers say the authorities could find better uses for the money than subsidizing small farms.
Their argument is that the sum received by small farmers is a form of welfare with no subsequent improvement in their activity.
Instead of wasting money on small subsistence farms, the authorities should focus their financial help on those capable of high performance.
"Nowhere else does one live off 5, 10 or 50 hectares of land for vegetal production. These people must be told that they need more than 100 hectares to be able to make a living off the land. We need to take a decision and support small farms from social protection money and not from the money meant to improve performance in agriculture," said Sitaru during a Mediafax conference.
The CAP reform promises access to direct payments and the possibility to invest to all farmers, regardless of their size. In Romania, however, there is a vital need for the authorities to prioritize if improvements are to take place, warn large farmers.
simona.bazavan@business-review.ro