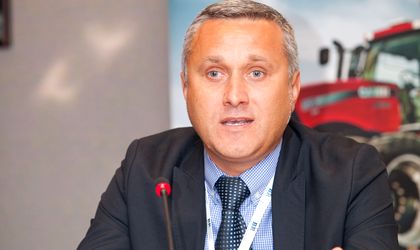 Romanian farmers must invest significantly in agricultural equipment if the sector is to fulfill its potential, according to an industry representative. Between 1,800 and 1,900 new tractors will be sold in Romania this year, up from about 1,700 in 2012, estimates George Stanson, business manager at Case IH&Steyer Balkans. Both the rate of increase and volume are low compared to the country's needs and potential, he told BR. "The Poles bought 17,500 new tractors this year. It is true that their farmland surface is more than twice Romania's, but even so, the difference is considerable," he said.
Romania must buy about 5,000 new tractors each year to post higher average yields, added Stanson. If the National Program for Rural Development (NPRD) for 2014-2020 is better attuned to local farmers' investment needs and better implemented, tractor sales should rise to 5,000 by 2017, the impact of which would be felt throughout the entire economy. "There is some good news. The fact that the authorities have decided to reduce the number of measures in future NPRDs to 13 from 24 over 2007-2013 is welcome. They also need to make the evaluation process shorter," he added.
Stanson estimates that 100,000-150,000 farmers still plough with obsolete tractors. Investments in technological upgrades are vital to improve productivity. The average wheat yield in Romania is around 3 tonnes per hectare, said Achim Irimescu, secretary of state at the Ministry of Agriculture and Rural Development, at the fourth BR Focus on Agriculture event. By investing in the right ploughing equipment alone, a farmer should be able to increase average yields from 3t/ha to around 4.5-5t/ha, said Stanson. "If Romania manages to increase the amount of high-performance farming equipment a farmer has in his or her backyard, then we will definitely be on the right track," he added.
A recent BCR report found the average Romanian farm owns four pieces of agricultural equipment such as tractors and harvesters, compared to 44 in Poland and 120 in France. In 2012, Romania was the fifth largest wheat producer in the EU by surface and output, but reported the lowest yield, according to the National Institute of Statistics.
Simona Bazavan