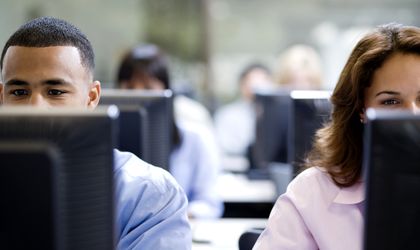 While there is no shortage of e-learning platforms that Romanian entrepreneurs can use to broaden their horizons, local initiatives to set up such platforms have been scarce. Lack of targeted content adjusted to the Romanian economy can prove an obstacle, warn experts. 
By Otilia Haraga
Platforms such as Coursera, edX, Udemy, PublicBeta and Mixergy are just a few of the names that local entrepreneurs consulted by Business Review recommend startups take a look at.
"In Romania, there are few such platforms, and there are few solutions dedicated exclusively to entrepreneurs. This is for various reasons. The content is very poor: often they are PowerPoint documents transposed as courses, they are not adjusted to the current context, the materials are out of date and so on. Most of the e-learning solutions that exist at the moment are international solutions from large universities such as Stanford or MIT which regularly hold free webinars on various topics," says Peter Barta, executive director of the Post Privatizare Foundation.
"Sadly, there is not too much quality content in Romania. If we refer strictly to Romanian platforms, there are few of them," he says. He mentions the ZF e-learning platform created by Ziarul Financiar and the Online Business School run by Romtelecom, but "there are so few of them that we can count them on the fingers of one hand!"
"Today we can no longer talk about resources that are available only to Romanian entrepreneurs. Most Romanian entrepreneurs speak English, so they have access to international e-learning platforms. The best known of these are Coursera, edX and Udemy. Prestigious universities such as Harvard, Stanford, and MIT also offer access to online classes. Some of them are free, while others charge a reasonable participation fee," says Irina Scarlat, co-founder and executive VP of Akcees.
Akcees plans to launch an online platform with classes for high-school children and to put together online entrepreneurship classes through the existing platforms.
"I believe that the most accessed classes are the web design and programming ones, but entrepreneurs who wish to gain new knowledge in various domains can do so online, for free or at a very low cost," says Scarlat.
While he recommends e-learning platforms as a good alternative in the self-teaching process, Barta says that an entrepreneur cannot rely on learning solely from online platforms. "It is partly because of the language barrier, but also because of the lack of interaction, which is very important. An ideal combination would be an e-learning platform with modules that offer some interaction, in the form of classroom sessions."
However, entrepreneurs in Romania have yet to embrace these platforms fully, and it is mainly young entrepreneurs who do so.
Still, there can be no denying that e-learning is growing in popularity. "When talking to Tech Hub entrepreneurs, I found out that quite a sizeable number of them have opted for these online classes," says Bogdan Iordache, co-founder of How to Web.
Key advantages that e-learning can bring to entrepreneurs, especially new ones, include lower costs for the learning process, access to a vast library, the ease of learning at one's own pace and the possibility to return to a certain course whenever necessary, explains Barta.
Mix of traditional and e-learning makes a winning combo
 "This type of learning should represent an investment just like any other for an entrepreneur. It is a good investment if you must achieve something concise and over a short time span," Barta advises. On the long term, he recommends entrepreneurs go for a mix of online classes, using both e-learning platforms and conventional training where they can interact with other participants and the lecturer, but where, moreover, they can enjoy quality networking, which is very important for an entrepreneur, especially at the beginning of his or her career.
Barta flags up the impossibility of networking through an e-learning course as a major drawback, since he considers it very important for personal development and for one's business.
Meanwhile, entrepreneur Marius Ghenea cites as a problem the fact that international platforms in English are usually inspired by the Anglo-American business environment, and may not be able to deliver useful and targeted information for the Romanian business scene.
"The key differences that make these courses difficult to apply lie mainly in the financing and investment areas, since the investment environment in Romania is totally different from that in the USA or the UK – both because of the lack of IPO options and the distinct absence of early-stage investors like business angels, seed funds and venture capital, but also as far as exit strategies are concerned. There are also other differences, both in the governmental contingencies, which are also very different in Romania compared to the Anglo-Saxon environment, the business ethics, human resources and so on," he explains.
Ghenea believes it is very hard to organize significant localized classes, because they involve both significant costs and the participation of businesspeople with relevant experience.
One example of a local e-learning platform is the Online Business School. Romtelecom Business Solutions coordinates the project, while IT and e-learning solutions provider Bluepoint IT Solutions is in charge of the online platform and, in collaboration with OTEAcademy, a subsidiary of OTE Greece, provides the digital content.
Under the name Improving the Competitiveness of SMEs via Durable Entrepreneurship, this project offers free access to training to the managers of SMEs, individual companies and sole traders, so that they can develop their business and personal abilities.
The school runs about 100 courses in Romanian and English and four simulations that cover ten business domains. Courses touch on marketing, management, leadership, negotiation, sales, communication, PC usage, personal development, simulations and learning English.
Moreover, trainees can regularly take part in webinars and even classroom training. "Our evaluations show that there are no other free platforms on the Romanian market with a curriculum and so many ways to access it, and with so many registered trainees," say Romtelecom officials.
The most popular courses and simulations are those that have to do with sales and communicating with a difficult boss, followed by those that tackle time management, according to Romtelecom representatives.
So far, more than 6,500 managers and entrepreneurs have graduated from at least one course from this platform. The average trainee has graduated from five different classes, but there are also some who have undertaken 20-30 training courses.
"From an employer's perspective, one benefit of the Online Business School is that it is very cost-efficient because the manager that has enrolled in the program does not need to actually go to the courses, so he/she saves time, and also the costs of the transportation and participation fees are minimal. We say 'minimal' because there are a few courses delivered in class, but these were the exceptions, because with this program, we want to change mentalities regarding new technologies," say Romtelecom officials.
However, Romanian entrepreneurs who take online courses should not expect to benefit from the same certifications as with traditional training. "In Romania, the law does not formally regulate the online platforms. An online platform cannot entirely take the place of conventional courses, but in other countries there is this possibility and the courses are recognized," says Barta.
This is not a major impediment, however, because for entrepreneurs, it is more relevant what they know than the certifications they have, says Scarlat.
"Yes, online e-learning platforms are legitimate and they help impart knowledge and keep up with the quality of higher education institutions abroad. At the end, if you have undertaken all the training, done all the assignments and obtained over 70 percent in the tests, you get a diploma signed by the teachers. This diploma is usually recognized in the private sector as long as you can prove you have the skills. In practice, it is a piece of paper that is not worth anything, like all the other diplomas we get from certified educational institutions," says Scarlat.
Romanian entrepreneurs recommend:
Coursera http://www.coursera.org
MIT Open Course Ware http://ocw.mit.edu/index.htm
Udemy https://www.udemy.com/
Public Beta http://publicbeta.co/
Mixergy http://mixergy.com/goto/welcome/
Entrepreneur http://www.entrepreneur.com/
Leaders In http://leadersin.com/
Open Learn http://www.open.edu/openlearn/
Self Growth http://www.selfgrowth.com/
Online Business School www.bizschool.ro
Ziarul Financiar
Harvard Extension School www.extension.harvard.edu/registration
Stanford University http://online.stanford.edu/courses
Oxford Learning Lab http://www.oxlearn.com/
Academic Earth http://academicearth.org/
Open Yale Courses http://oyc.yale.edu/courses
Live Mocha http://livemocha.com/
*List compiled by BR to reflect entrepreneurs' recommendations