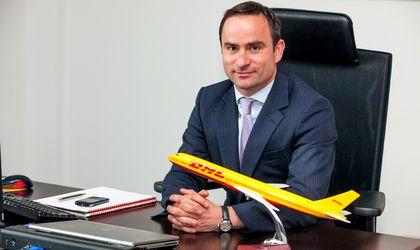 Daniel Kearvell, managing director at DHL Express Romania, says that SMEs account for 80 percent of the courier firm's portfolio. He adds that more local companies are starting to look for new markets outside the EU and tips the business-to-consumer segment as the main growth engine for the delivery market.
Ovidiu Posirca
[restrict]
What is DHL's investment policy in Romania?
Our entire approach is that we have to grow with our customers – to respond if our customers tell us, for example, that we need to import more, volumes are growing and we need to invest there. In the past two years we have had to double our aircraft capacity in Cluj and Arad, because that is where we're seeing growth. We have 3.5 tons of material coming into both Cluj and Arad every day. We have upgraded the aircraft because that is what our customers needed.
Our customers require higher levels of quality these days and the market is becoming more competitive. Just last year we completed a EUR 3 million investment in a complete new fleet – over 100 new Volkswagen Crafters.
We continue to invest. We have been here for 23 years and we continue to develop – the success of our business depends on our success in making incremental improvements.
If I look at the areas in Romania where we are seeing growth, one example is Cluj and that area of Transylvania. To improve our performance there we opened just last week (e.n. May 8) a new terminal in Cluj airport which is going to improve transit times for our customers by up to 60 minutes because it is in the airport, we have customs and we have improved facilities.
How much has DHL invested in Cluj?
Over 20 years it is a pretty significant figure – I can tell you that for the Cluj operation the investment is well in excess of six figures. Express does not require thousands of square meters of warehousing; what it requires is airside access and good customs facilities. For example, we have customs offices in Otopeni that work in our facility and this enables the fast transit of goods through the process. So express typically does not require huge space; the investment is more in people. In Cluj it is in excess of six figures but not in the millions.
What is your current delivery capacity in Romania and how many people do you employ?
We employ 450 people. In terms of our capacity we have over 200 people, three aircraft which serve our customers and a Boeing 757 that comes to Bucharest every day. We have two Saab 340s, one in Cluj and one in Arad. We also have a ground network for heavier goods, with typically slower transit times over land. We have 41 locations across Romania and we serve everywhere.
When the capacity is not enough we expand. For example, around five years ago we moved to our European hub in Leipzig, Germany, but already we have had to expand further and invest EUR 140 million because the driving (growth) in customers is filling the space. We have the same pressure in Bucharest and we will invest to expand our facility.
How is the poor road infrastructure impacting your business?
I think in every country there is always an issue. I used to work in Moscow, Russia, and it used to take our employees two to three hours to get to work in central Moscow. They have got a problem with the roads. It is the same in the US. In Los Angeles, DHL has just recently decided to use helicopters for the delivery of important documents into the center of LA. In Romania I would say firstly that our air network is more important than the road network. Typically, 70 percent of imports and exports are with the EU (Germany, France, Italy and the UK) and this happens through our air network.
At DHL we measure something called clearance on arrival, which is the percentage of the shipment that is cleared and out for delivery one hour after arriving in the facility. That figure is around 80 percent. That is the most important thing. Yes, clearly, if there were more highways it would improve things. I drive around Romania a lot, I visit all the stations, all of our customers, and I have to say that the roads here are quite good. Could they be expanded? Yes. Would improved infrastructure make our country a more competitive and attractive destination for investors? Absolutely.
I think as evidence of that, if we look geographically at Romania, where there is a lot of new investments, you find manufacturing. A lot is happening in the north-west because it is close to Europe. Oradea and Arad are very successful at attracting foreign investments. I look at Cluj – not even Cluj itself, but Dej and Zalau, and they are expanding production there because the road connections to Europe are quite good. So the roads could be improved but for us it is about the air infrastructure.
What are the most lucrative sectors in Romania?
DHL Romania has over 5,000 customers so we are a pretty big country in terms of this. Typically, all of the main investors are DHL customers so we partner with them, including Cameron and Emerson. The main foreign investors that bring FDI require express services to make sure that their production runs smoothly.
So there are traditional international customers, but we also serve small and medium-sized enterprises. In Romania we have a big retail footprint – around 20 retail offices where customers can come in and drop off their shipment. That business has grown 12 percent over the last 12 months. If you compare national and international customers, it is national customers driving the growth.
Entrepreneurship here has opportunities, in the high-tech and textiles industries. A customer of ours that manufactures calendars and diaries has just started exporting to Togo in West Africa.
There is a tendency for Romanian businesses to start to look elsewhere, outside Europe, because that is where the opportunities are.
What share of your total client portfolio do SMEs make up?
It depends on how you define an SME. The EU definition is a company with a revenue/turnover of up to EUR 50 million and fewer than 250 employees. I would say SMEs account for around 80 percent of our total customer base. It is a considerable share and we have had to adjust our services, communication, pricing and products to target that market. We are increasingly focusing our efforts on how to support SMEs, for example through simplified tariffs, simplified zoning, a helpful website, and dos and don'ts.
Are your SME customers heavy exporters?
Romania is an inbound country, so the ratio of inbound and outbound express shipments is two to one. If you look at our total shipments but take the domestic ones out, we have more inbound than outbound shipments. This has not changed dramatically (e.n. in recent years).
What is investor sentiment like among SMEs? Are they confident?
At DHL we are very confident. Our volumes of shipments grew 12 by percent last year in Romania and we believe that there are competitive advantages here. There are huge grounds for optimism in this country, I believe that political stability will help – that drives confidence in the economy and the Romanian exporters that have got it right are very successful. To export you need to know your market, your partners, the rules and regulations, and it is a challenge for an SME, typically one with a GM that does pretty much everything. Having that knowledge and expertise, we believe we can help with this challenge.
On the domestic Romanian market – so Romanians producing for other Romanians –again there are two stories. There is the general business-to-business market, which is great but posting steady rather than spectacular growth. In our industry, where we're seeing a clear growth is in business-to-consumer shipments. That really is a very interesting market, one that is in its relative infancy, and in terms of the volumes countries are really starting to click on online. E-commerce is starting to kick off, and we expect that to be the driver of the challenges in our industry as people start to order more and more online. That is where I expect the growth in volumes to come from.
How do you expect the local delivery market to do this year and what is DHL's market share?
Our market share for international express in 42 percent. As I said, I expect the local domestic market to grow, driven by B2C shipments. I think we will see some growth in domestic B2B. The market is quite competitive here and customers demand quality and reasonable prices. In our cash/retail business we have not increased our prices for the last two years. We have a very flexible policy in that respect, because the market is becoming more demanding.
CV Daniel Kearvell
June 2012 – present managing director, DHL Express Romania
2010 – 2012 country manager, DHL Qatar
2009 financial controller, emerging markets, DHL Brussels/Dubai
2006-2008 area manager, DHL, West Russia
2004 – 2005 director, Russo-British Chamber of Commerce St Petersburg and north-west Russia
2012 – present Warwick Business School, MBA
1998 – 2002 University of Nottingham, History and Russian
2005 – present special lecturer in Russian, Nottingham University
[/restrict]